Polioptila plumbea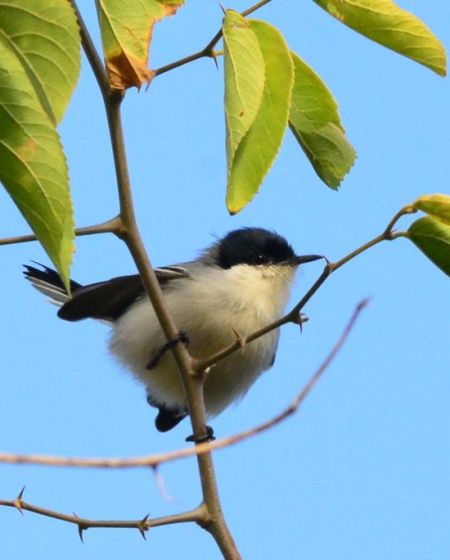 Identification
10-12.7 cm (4-5 in)
Black crown, neck sides and stripe behind the eye
Blue-grey upperparts
Black wings with white edging on the tertials
Long, thin black tail with narrow white tips and edges
White face and belly
Pale grey underparts

Female: similar to the male, but with a dark grey, rather than black, crown.
Young birds have a brown tinge to the upperparts and face, and whiter underparts.
Distribution
Central and South America:
Central America: found in Mexico, Guatemala, Honduras, Nicaragua, Costa Rica, Panama
South America: Colombia, Venezuela, Guyana, Suriname, French Guiana, Ecuador, Peru, Brazil
Taxonomy
White-lored Gnatcatcher has previously been included within Tropical Gnatcatcher but the split seems to be widely accepted. Likewise, White-browed Gnatcatcher has recently been split from this species.
Subspecies
This species currently has about seven subspecies[1].
P. p. anteocularis: North Colombia (upper Magdalena Valley)
P. p. maior: Tropical eastern Peru (upper Río Marañón) from Piura to La Libertad
P. p. plumbiceps: East slope of Andes of northern Colombia to northern Venezuela; Isla Margarita
P. p. innotata: Extreme eastern Colombia to southern Venezuela and extreme northern Brazil
P. p. plumbea: The Guianas and north-eastern Brazil (Rio Tapajós to northern Maranhão)
P. p. parvirostris: Western Amazonia, from southern Colombia south to southeastern Peru (Madre de Dios) and east to adjacent Brazil (Acre and western Amazonas)
P. p. atricapilla: North East Brazil (Maranhão to Piauí, Ceará, Pernambuco and Bahia)
Habitat
Lowlands and foothills from sea level to about 1500 m. They occupy a wide of habitats from canopy of forests, forest edges, overgrown pastures and plantations etc.
Behaviour
Diet
Their main diet consists of small arthropods and spiders.
Breeding
The nest is a small cup made from vegetable fibres. The clutch consists of 2-3 white eggs with brown spots.
References
Clements, J. F., T. S. Schulenberg, M. J. Iliff, S. M. Billerman, T. A. Fredericks, J. A. Gerbracht, D. Lepage, B. L. Sullivan, and C. L. Wood. 2021. The eBird/Clements checklist of Birds of the World: v2021. Downloaded from https://www.birds.cornell.edu/clementschecklist/download/
Avibase
Handbook of the Birds of the World Alive (retrieved Sept 2017)
The Beauty of Birds
Recommended Citation
External Links