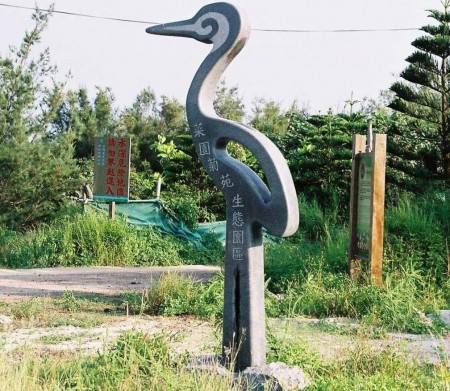 Overview
The Penghu archipelago or the Pescadores as the Portuguese mariners called them is made up of 64 islands and is located in the Taiwan Strait about halfway between Taiwan and the Fujian coast of southern China.
This beautiful archipelago is an important stop on the Southeast Asia Migration Routes.Penghu is a county of Taiwan and with its white beaches,coral reefs and calm blue waters is a favourite summer getaway spot for many Taiwanese.
Birds
Notable Species
The Tsai Yuan Jiu Yuan Wetlands are situated on the main island of Penghu,south east of the county capital,Magong.The Tsai Yuan Jiu Yuan Wetlands is an area covering about 50 hectares.It includes a reservoir,river,ponds,coastal scrub and seashore with mudflats.
Tsai Yuan Jiu Yuan has a very large hide looking out over some ponds and the mudflats.There are a number of blinds and pavilions throughout the wetland.
Common resident birds are Cattle Egret, Little Egret and Great Egret; Grey Heron; Little Grebe; Black-crowned Night Heron; Common Moorhen; Common Kingfisher; Oriental Skylark; Nutmeg Mannikin; Swinhoe's White-eye; Eurasian Tree Sparrow; Crested Mynah, White-vented Mynah and Common Myna; White-vented Bulbul; Spotted Dove; Bustard Quail; Eastern Reef Heron; Kentish Plover and Little Ringed Plover.
During summer Oriental Pratincole; Barn Swallow; House Swift and Little Tern are Present. Greater Crested Tern, Roseate Tern and Black-naped Tern* may be seen over the bay.
Black-naped Tern breed on the old uprights of the Kuahai Bridge that links the island of Paisha to Hsiyu.The terns can be viewed from the new bridge.

The Tsai Yuan Jiu Yuan Wetlands is best visited during the spring and autumn migration periods (winter is also good). During migration the wetlands play host to Great Cormorant; Intermediate Egret; Chinese Pond Heron; Chinese Little Bittern; Black-faced Spoonbill; Eastern Spot-billed Duck; Northern Pintail; Common Teal and Falcated Teal; Eurasian Wigeon; Northern Shoveler; Tufted Duck; White-breasted Water Hen; Osprey; Black-winged Stilt; Common Snipe; Wood Sandpiper, Green Sandpiper, Sharp-tailed Sandpiper, Common Sandpiper, Curlew Sandpiper, Terek Sandpiper and Marsh Sandpiper; Whiskered Tern and White-winged Black Tern; Black-capped Kingfisher; White Wagtail and Grey Wagtail; Grey Plover, Greater Sand Plover, Lesser Sand Plover and Pacific Golden Plover; Grey-tailed Tattler; Whimbrel; Ruddy Turnstone; Long-toed Stint and Red-necked Stint; Dunlin; Common Greenshank; Common Redshank; Eastern Marsh Harrier; Short-eared Owl; Eurasian Hoopoe; Red-throated Pipit, Olive-backed Pipit and Richard's Pipit; Chinese Sparrowhawk; Grey-faced Buzzard Eagle; Eurasian Buzzard; Common Kestrel; Oriental Cuckoo; Brown Shrike; Siberian Rubythroat; Blue Rock Thrush; Red-flanked Bluetail; Daurian Redstart, Common Stonechat, Pale Thrush, Dusky Thrush and Red-bellied Thrush; Oriental Great Reed Warbler, Japanese Bush Warbler and Arctic Warbler; Grey-streaked Flycatcher and Ferruginous Flycatcher; Little Bunting and Black-faced Bunting, Brambling; White-cheeked Starling, White-shouldered Starling and Red-billed Starling; and Black-headed Gull.
Check-list
Birds you can see here include:
To do
Other Wildlife
To do
Site Information
History and Use
To do
Areas of Interest
To do
Access and Facilities
The Tsai Yuan Jiu Yuan Wetlands can be reached by exiting Magong on Road 204.After about 4km you'll see the Penghu visitor centre on the left.Just past the visitor centre turn right into Road 205.
The wetland entrance is about 70 m down the road on the left.
Contact Details
To do
External Links
To do

Content and images originally posted by Mark Bruce