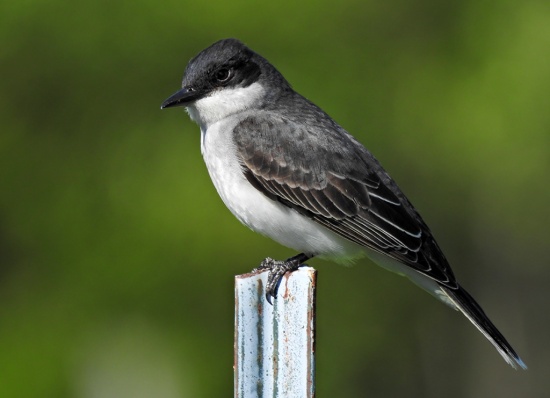 Tyrannus tyrannus
Identification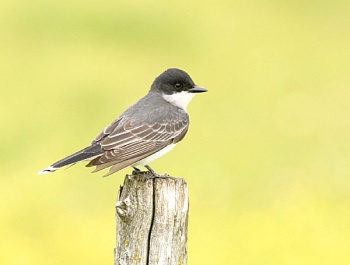 19–23 cm (7½-9 in)
Charcoal gray upperparts
Black cap
White throat and belly, some gray smudges on chest
White tip on tail
Sometimes shows orange, or yellowish-orange crown spot
Distribution
This species breeds throughout much of the USA and Canada; absent only in Alaska, Yukon Territory, California most of Nevada, southern Utah, Arizona, southern New Mexico, and western Texas.
Winters in South America.
Rare vagrant in California, Arizona, Newfoundland, and Alaska.
Taxonomy
This is a monotypic species[1].
Habitat
A variety of open areas with a few tall trees or powerlines and forests, including gallery forest, clearings and forest borders.
Behaviour
Often flies into the air from a perch to catch an insect (flycatching).
Diet
Their diet consists mostly of flying insects, particularly in the breeding season. They will also sometimes take small frogs. Fruit forms a large part of their diet too.
Gallery
Click on photo for larger image
References
Clements, J. F., T. S. Schulenberg, M. J. Iliff, D. Roberson, T. A. Fredericks, B. L. Sullivan, and C. L. Wood. 2017. The eBird/Clements checklist of birds of the world: v2017, with updates to August 2017. Downloaded from http://www.birds.cornell.edu/clementschecklist/download/
Handbook of the Birds of the World Alive (retrieved January 2016 & May 2018)
Recommended Citation
External Links