This article is incomplete.
This article is missing one or more sections. You can help the BirdForum Opus by expanding it.
Overview
Gravel pits situated near the confluence of the rivers Tean and Dove. At the time of writing (December 2008), gravel is still being extracted giving scope for more areas of gravel pit to form in the future. AS THIS IS A WORKING PIT, PLEASE ENSURE AT ALL TIMES THAT YOU KEEP TO PUBLIC FOOTPATHS AND DO NOT STRAY ONTO THE WORKINGS.
Water pumps are in use in the existing gravel pits, which can lead to a wide variety of water levels. This can prove attractive to winter wildfowl and passage waders. The surrounding farmland also attracts some of the typical farmland bird species. There is also a small amount of willow and alder adjacent to streams and the River Tean.
Birds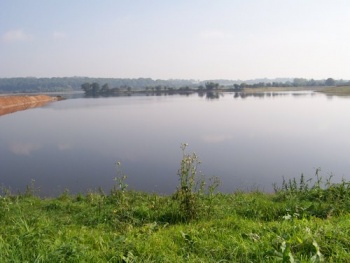 Notable Species
Goosander, Green Sandpiper. Seen almost year-round.
Rarities
Great Northern Diver, Red-necked Grebe, Shag, Eurasian Spoonbill, Greater White-fronted Goose, Brent Goose, Ring-necked Duck, Pectoral Sandpiper, Purple Sandpiper, Lesser Yellowlegs, Water Pipit, Great Grey Shrike, European Bee-eater, Bearded Tit,
Check-list
Birds you can see here include:
Little Grebe, Great Crested Grebe, Great Cormorant, Little Egret, Great White Egret, Grey Heron, Mute Swan, Whooper Swan, Bewick's Swan, Canada Goose, Barnacle Goose, Pink-footed Goose, Greylag Goose, Egyptian Goose, Shelduck, Mandarin Duck, Wigeon, Teal, Garganey, Mallard, Gadwall, Pintail, Northern Shoveler, Common Pochard, Red-crested Pochard, Scaup, Tufted Duck, Common Scoter, Common Goldeneye, Red-breasted Merganser, Goosander, Ruddy Duck, Red Kite, Northern Goshawk, Sparrowhawk, Marsh Harrier, Common Buzzard, Osprey, Kestrel, Merlin, Hobby, Peregrine Falcon, Quail, Red-legged Partridge, Pheasant, Water Rail, Common Moorhen, Common Coot, Eurasian Oystercatcher, Little Ringed Plover, Ringed Plover, Grey Plover, Eurasian Golden Plover, Northern Lapwing, Red Knot, Sanderling, Dunlin, Curlew Sandpiper, Common Snipe, Jack Snipe, Eurasian Woodcock, Ruff, Bar-tailed Godwit, Black-tailed Godwit, Eurasian Curlew, Whimbrel, Common Redshank, Spotted Redshank, Common Greenshank, Green Sandpiper, Wood Sandpiper, Common Sandpiper, Ruddy Turnstone, Little Gull, Black-headed Gull, Common Gull, Mediterranean Gull, Lesser Black-backed Gull, Great Black-backed Gull, Herring Gull, Yellow-legged Gull, Common Tern, Arctic Tern, Sandwich Tern, Black Tern, Feral Pigeon, Stock Dove, Common Wood Pigeon, Eurasian Collared Dove, Common Cuckoo, Tawny Owl, Short-eared Owl, Barn Owl, Little Owl, Common Swift, Common Kingfisher, Green Woodpecker, Great Spotted Woodpecker, Lesser Spotted Woodpecker, Eurasian Skylark, Sand Martin, Barn Swallow, Northern House Martin, Rock Pipit, Meadow Pipit, Tree Pipit, Yellow Wagtail, Grey Wagtail, White Wagtail, Pied Wagtail, White-throated Dipper, Bohemian Waxwing, Eurasian Wren, Dunnock, Robin, Common Redstart, Whinchat, European Stonechat, Northern Wheatear, Eurasian Blackbird, Fieldfare, Song Thrush, Redwing, Mistle Thrush, Cetti's Warbler, Common Whitethroat, Lesser Whitethroat, Garden Warbler, Blackcap, Grasshopper Warbler, Sedge Warbler, Common Reed Warbler, Willow Warbler, Common Chiffchaff, Goldcrest, Spotted Flycatcher, Long-tailed Tit, Willow Tit, Blue Tit, Coal Tit, Great Tit, Eurasian Nuthatch, Eurasian Treecreeper, Eurasian Jay, Eurasian Magpie, Carrion Crow, Rook, Eurasian Jackdaw, Common Raven, Common Starling, House Sparrow, Eurasian Tree Sparrow, Chaffinch, Brambling, European Goldfinch, Eurasian Siskin, Eurasian Linnet, Lesser Redpoll, Common Crossbill, Eurasian Bullfinch, Yellowhammer, Reed Bunting.
Other Wildlife
Mammals seen to date include Brown Hare (common), Red Fox and Stoat. Evidence of Badger has also been noted.
Butterflies seen include Clouded Yellow, Brimstone, Red Admiral, Painted Lady, Comma, Large White, Small White, Green-veined White, Peacock, Small Copper, Common Blue, Holly Blue, Meadow Brown, Small Heath, Large Skipper and Speckled Wood. Several species of Dragonflies and Damselflies also abound. Including. Common Darter, Common Hawker, Southern Hawker, Migrant Hawker, Black-Tailed Skimmer. Common Blue and Blue Tailed Damselflies.
Site Information
History and Use
To do
Areas of Interest
To do
Access and Facilities
Access to Uttoxeter Quarry can be gained by using a public footpath situated from the roundabout, between The Dove Way (flyover above the A50) and the B5030 towards Rocester. This is situated north of the A50 eastern roundabout (Esso garage/McDonalds).
Alternative parking can be found south of the western roundabout of the A50, opposite "The Racecourse" pub/hotel. A public footpath continues from here through a farm. The whole site can be viewed from the public footpath.
Ordnance Survey grid ref: SK0935
Contact Details
To do
External Links