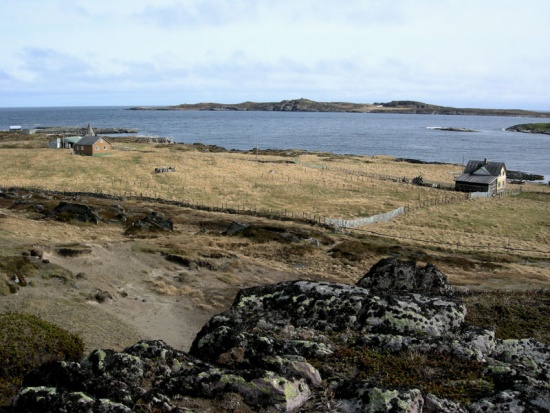 Overview
Situated in the far north-east of Norway, bounded by the Tanafjord to the west, the Arctic Ocean to the east and the famous Varanger Fjord to the south, this area is a haven for some of the most northerly breeding birds in Europe.
Birds
Notable Species
Specialities that attract birders from all over Europe include Yellow-billed Loon, King Eider and Steller's Eider and many species of wader in breeding plumage such as Ruddy Turnstone and Purple Sandpiper.
Rough-legged Buzzard, Gyr Falcon and Snowy Owl occur in variable numbers. Willow Ptarmigan is found across much of the south and Rock Ptarmigan in the higher ground and the north but both are scarce.
The northern half and most of the higher ground of the peninsula is largely bare with little plant growth except lichen. Elsewhere there are large areas of crowberry heath with patches of dwarf birch. Pools and bogs are numerous with cloudberry, sedges, rushes and cotton-grass. Breeding birds of these habitats include divers and scoters, Greater Scaup and Long-tailed Duck.
A central ridge runs across the peninsula reaching more than 700m in parts and further south are lower, rounded fjells, the best-known ornithologically is Falkefjell at 548m. Gyr Falcon and Snowy Owl are sometimes seen here as well as Snow Bunting, skuas breed in higher areas and breeding waders include Eurasian Dotterel, Red-necked Phalarope, Purple Sandpiper and Temminck's Stint.
In the scrub of lower areas there are Common Redpoll and Arctic Redpoll, Bluethroat and Red-throated Pipit.
Most birders visit this region for the birds to be seen along the shores of Varanger Fjord. Varangerbotn, at the head of this inlet of the Arctic Ocean, has Goosander, Red Knot and Bar-tailed Godwit, possibly also Arctic Warbler.
To the east Nesseby is an excellent site for Red-necked Phalarope with Black-throated Diver and King Eider on the sea.
Further east still is Vadso, a large town for this area with hotel accommodation and shops. The local refuse-tip is on a nearby island, Vadsoya, and attracts the best birds. Steller's Eider can often be seen offshore and there are occasional gulls from further north usually seen here in winter, Glaucous Gull is regular, Iceland Gull less so and Ivory Gull occasional. Temminck's Stint breed here and sometimes also Little Stint.
Ekkeroy is one of the best sites on the peninsula, especially for seawatching and Gyr Falcon and White-tailed Eagle occur here. A small island linked to the mainland by a causeway, it has breeding Great Cormorant and Black-legged Kittiwake on cliffs in the south. Offshore, Arctic Skua and Long-tailed Skua are common, Pomarine Skua occasional, Great Skua is rare, also Common Eider, King Eider and Steller's Eider and Yellow-billed Diver. In the north of the island on flatter shores there are Lapland Bunting, Shore Lark and Temminck's Stint.
Off the easternmost coast of the peninsula is the town of Vardo on two connected islands. Just to the east of Vardo are the islets of Hornoy and Reinoy with breeding European Shag and Common Eider, various gulls and auks including Atlantic Puffin, Black Guillemot and Common Guillemot. Also found here at the southernmost point of its European range is Brunnich's Guillemot. Little Auk can be seen in winter and spring. Boat-trips can be arranged from Vardo.
Syltefjordstauran is a nature reserve in the north of the peninsula on the coast of the Barent's Sea. This cliff-lined stretch of coastline has breeding Black-legged Kittiwake, Common Guillemot and Brunnich's Guillemot, Razorbill and Atlantic Puffin. It is also the site of the northernmost gannetry in the world. Further west is another reserve, the grass-covered island of Kongsoy with breeding Great Cormorant and European Shag, Herring Gull, Black-legged Kittiwake, Black Guillemot, Razorbill and Atlantic Puffin on the cliffs.
The estuary of the Tana River in Tanafjord is another excellent birding area and very important for moulting and wintering waterfowl. Goosander gather here in tens of thousands in late summer to moult and huge numbers of Common Eider, King Eider and Long-tailed Duck winter. Passage times bring a wide range of waterfowl and waders through the area in vast numbers.
Check-list
Birds you can see here include:
Red-throated Diver, Black-throated Diver, Yellow-billed Diver, (a few Su), Great Northern Diver, Little Grebe, Red-necked Grebe, Northern Fulmar, European Storm-petrel, Northern Gannet, Great Cormorant, European Shag, Bewick's Swan, Tundra Bean Goose, Taiga Bean Goose, Greater White-fronted Goose, Lesser White-fronted Goose, Barnacle Goose, Dark-bellied Brent Goose, Mallard, Eurasian Wigeon, Common Teal, Northern Pintail, Northern Shoveler, Greater Scaup, Common Eider, King Eider, Steller's Eider, (a few Su), Long-tailed Duck, Common Scoter, Velvet Scoter, Smew, Red-breasted Merganser, Goosander, White-tailed Eagle, Rough-legged Buzzard, Gyr Falcon, Peregrine Falcon, Merlin, Willow Ptarmigan, Rock Ptarmigan, Eurasian Coot, Eurasian Oystercatcher, Ringed Plover, Eurasian Dotterel, Eurasian Golden Plover, Red Knot, Sanderling, Little Stint, Temminck's Stint, Curlew Sandpiper, Purple Sandpiper, Dunlin, Ruff, Common Snipe, Bar-tailed Godwit, Eurasian Curlew, (mainly in south), Whimbrel, Common Redshank, Common Greenshank, Wood Sandpiper, Common Sandpiper, Ruddy Turnstone, Red-necked Phalarope, Arctic Skua, Long-tailed Skua, Pomarine SkuaBlack-headed Gull, Common Gull, Herring Gull, Iceland Gull, (mainly W and Sp), Glaucous Gull, (a few Su), Great Black-backed Gull, Black-legged Kittiwake, Arctic Tern, Common Guillemot, Brunnich's Guillemot, Razorbill, Black Guillemot, Little Auk, Atlantic Puffin, Common Cuckoo, (mainly south-west), Snowy Owl, Short-eared Owl, (mainly in south), Lesser Spotted Woodpecker, Horned Lark, Eurasian Skylark, Sand Martin, Northern House Martin, Tree Pipit, Meadow Pipit, Red-throated Pipit, Rock Pipit, White Wagtail, Common Dipper, Dunnock, Bluethroat, Northern Wheatear, Ring Ouzel, Fieldfare, Redwing, Sedge Warbler, Garden Warbler, Arctic Warbler, Willow Warbler, European Pied Flycatcher, Willow Tit, Great Tit, Common Magpie, Hooded Crow, Northern Raven, Common Starling, House Sparrow, Brambling, Northern Redpoll, Arctic Redpoll, Common Bullfinch, Lapland Bunting, Snow Bunting, Reed Bunting
Other Wildlife
Mammals are few so far north but Arctic Fox and Otter may be seen and various seals in the harbours, Harp Seal is the most numerous. Harbour Porpoise is common, Grey Seal can be seen and with some luck Minke Whale or Orcas.
Site Information
To cover this area sufficiently may take several days.
Areas of Interest
To see the northern end of the peninsula return to Varangerbotn, continue to Skipagurra and take the Road 890 northwards over the mountains and down to the rugged coastline. It is here that Gyr Falcon and Snowy Owl are most likely to be seen.
Access and Facilities
The Varanger Peninsula can be reached by road from further south in Sweden or Finland, alternatively, Kirkenes, on the south side of Varanger Fjord, has an airport with flights from Oslo. Vadsö has also a small airport with flights from Kirkenes and Tromsö. Alternatively the Hurtigruten is a good way to travel for those who have time.
A car is essential to cover this vast peninsula and they can be rented in Kirkenes. Either from the airport or by road from the south head for the town of Varangerbotn and from here take the coastal Road 98 to Vardo.
Hotel accommodation can be found in both Vardo and Vadso and there is also a "cottage camp" at Vestre Jakobselv, halfway along the northern shore of the fjord. Between Vadso and Vardo some villages (like Ekkeroy) offer bed and breakfast facilities. If you travel early (May or early June) check if the hotels are already open. Many birders prefer to camp in the summer months which can be done almost anywhere.
External Links