Alternative name: African Black Eagle
Aquila verreauxii
Identification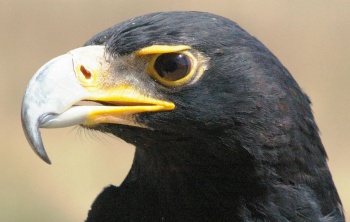 80–90 cm (31½-35½ in)
Black overall plumage
White rump and upper tail
Yellow eyering and eyebrow
Greyish-white bill
Long, slightly rounded tail
Distribution
Sub-Saharan Africa and the Middle East.
In Africa breeds in east Chad and west Sudan, from Ethiopia and extreme north-west Somalia south through Kenya and Tanzania and from eastern Zaire and Zambia south to the Cape and coastal Namibia.
Status uncertain in Western Palearctic, may have bred in Israel and may do so in very small numbers on a more regular basis in southern Sinai and Jordan. Also occurs in extreme south-east Egypt and has bred in the Tassili N'Ajjer area of Algeria.
Taxonomy
This is a monotypic species[1].
Habitat
Rocky mountains, gorges and kopjes, generally in remote areas with steep cliffs, mountains in deserts in parts of range. Range determined in part by presence of main prey species, Rock Hyrax.
Behaviour
Breeding
They are monogomous forming a life-long pair bond.
The clutch consists of 2 creamy white eggs which are laid four days apart in autumn. Incubation lasts for approximately 45 days.
Diet
A specialist hunter of hyraxes; however, they will also prey on other medium sized birds such as guineafowl and mammals.
References
Clements, J. F., T. S. Schulenberg, M. J. Iliff, D. Roberson, T. A. Fredericks, B. L. Sullivan, and C. L. Wood. 2017. The eBird/Clements checklist of birds of the world: v2017, with updates to August 2017. Downloaded from http://www.birds.cornell.edu/clementschecklist/download/
Handbook of the Birds of the World Alive (retrieved Apr 2018)
Recommended Citation
External Links