Lybius vieilloti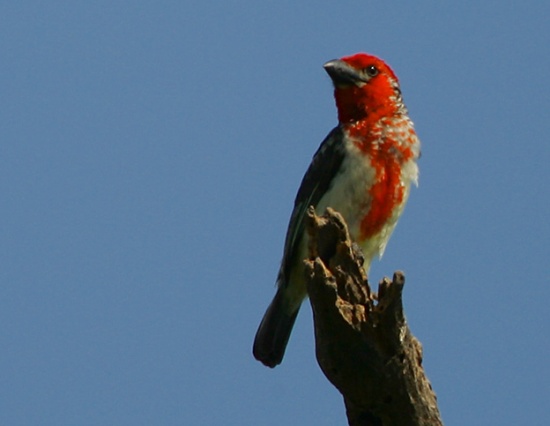 Identification
A small-medium sized stumpy Barbet with a heavy bill & thick neck. These birds have a scarlet head & face with colour extending patchily onto the upper chest, otherwise the body is a dirty yellow spotted dark-brown with brown wings.
Distribution
Africa south of the Sahara, but only as far south as Democratic Republic of Congo.
Taxonomy
Lybius vieilloti has three subspecies:
L. v. vieilloti;
L. v. buchanani; and
L. v. rubescens.
Habitat
Vieillot's Barbet favours dry Guinea savannah woodland containing fruiting figs.
Behaviour
The diet includes fruit. These birds are hole-nesters excavating nest chambers in dead trees, often near termite mounds. Vieillot's Barbet is apparently sometimes parasitised by Lesser Honeyguide.
References
Lepage D. 2007. Avibase. Search for "Vieillot's Barbet" downloaded 28 March 2008.
External Links