Vidua chalybeata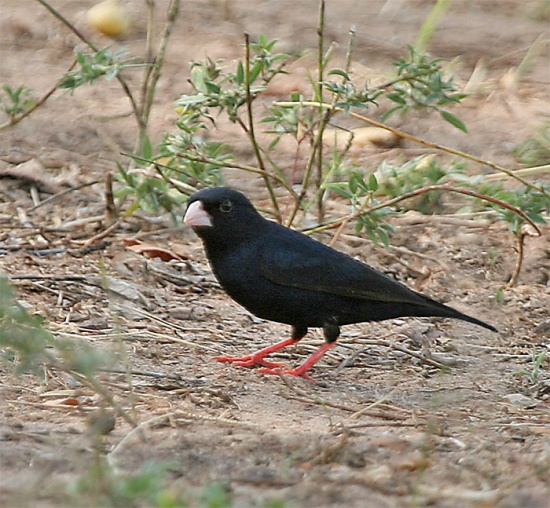 Identification
Length 11-12 cm, mass 11.1-16.4 g.
Breeding male: Glossy black plumage. Legs and feet orange, and eyes dark brown. Bill red or white, depending on subspecies: Red in eastern Africa, white west of Victoria falls and pale in the Gambia.
Distribution
Sub-Saharan Africa:
Western Africa: Mauritania, Senegambia, Senegal, The Gambia, Guinea-Bissau, Guinea, Mali, Sierra Leone, Liberia, Ivory Coast, Burkina Faso, Ghana, Togo, Benin, Nigeria, Niger, Chad, Cameroon, Central African Republic, Equatorial Guinea, Democratic Republic of Congo, Angola
Eastern Africa: Sudan, Eritrea, Ethiopia, Somalia, Kenya, Uganda, Rwanda, Burundi, Tanzania, Zambia, Mozambique, Malawi
Southern Africa: Namibia, Botswana, Zimbabwe, South Africa, Lesotho, Swaziland
Taxonomy
Six subspecies:
Habitat
Savanna, rank vegetation near rivers, roads, croplands and human settlements, and mopane woodlands near water.
Behaviour
Diet
Feeds on grass seeds (1-2 mm in diameter) on the ground; termite aletes are also eaten, as is cereal meal in villages. Breeding females eat the eggs of the host.
Breeding
Brood parasite of mainly the Red-billed Firefinch.
References
Fry H, Keith S,Woodcook M & Willis I. 2004. Birds of Africa Vol VII: Sparrows to Buntings. Princeton University Press. ISBN 0713665319
Recommended Citation
External Links