Alternative names: Brown-backed Honeybird, Wahlberg's Honeyguide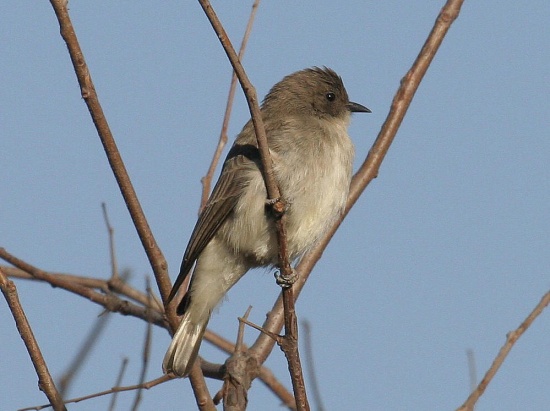 Prodotiscus regulus
Identification
Length 13 cm, mass 12-18 g. A small, drab honeyguide with grey-brown upperparts and a sharp, slender bill. In flight shows white outer tail.
Distribution
Sub-Saharan Africa.
Taxonomy
Prodotiscus regulus has two subspecies:
P. r. regulus is found in eastern and southern Africa; and
P. r. camerunensis is found in West Africa.
Habitat
Savanna, woodland, thicket and forest edge.
Behaviour
Usually only seen when calling, either a single bird calling from high in the canopy of a tree (3- to 4-sec dzreeee), or in pairs involved in rapid display/pursuit flight, uttering a sharp, buzzing tseet.
Breeding
A brood parasite; lays eggs in the spherical nests of cisticolas and warblers (Piping Cisticola, Lazy Cisticola, Wailing Cisticola, Tinkling Cisticola, Levaillant's Cisticola, Grey-backed Camaroptera, Tawny-flanked Prinia, Black-chested Prinia, Karoo Prinia). One to three eggs laid per host nest. Nestling period 17-21 days.
References
Clements, JF. 2010. The Clements Checklist of Birds of the World. 6th ed., with updates to December 2010. Ithaca: Cornell Univ. Press. ISBN 978-0801445019. Spreadsheet available at http://www.birds.cornell.edu/clementschecklist/Clements%206.5.xls/view
External Links