Ardenna pacifica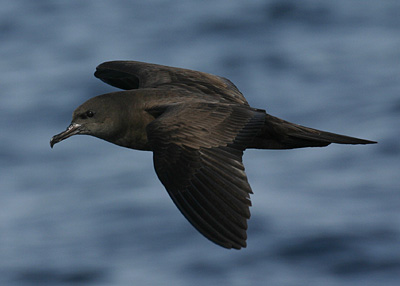 Identification
There are two colour morphs of the species, dark and pale. The pale morph has a grey-brown back, head and upperwing, and whiter plumage below. The darker morph is the same dark grey-brown over the whole body. They have a large wedge-shaped tail, dark bill and flesh coloured legs. Both morphs exist in all populations, and bear no relation to sex or breeding condition. This and other species of Shearwater are also known collectively as Muttonbirds, due to the practice of harvesting the chicks for meat and oil in Australia and New Zealand.
Similar Species
The Pink-footed Shearwater has brighter pink legs, and most diagnostically, a light bill. The Wedge-tailed has a dark bill. Buller's Shearwater is closely related and has a wedgetail and thin black bill, but shows striking black and white diagonal wing bars in flight.
Distribution
Widespread over open ocean throughout the tropical Pacific roughly between latitudes 35°N and 35°S, and off such islands Japan, the Hawaiian Islands, the Seychelles and Western Australia. The pale morph predominates in the north Pacific, the dark morph elsewhere.
Taxonomy
This species is monotypic.[1]
Formerly placed in genus Puffinus.
Habitat
Islands and open sea.
Behaviour
Diet: Includes fish, squid and crustaceans.
Breeding: Both sexes dig a burrow for a nest; 1 egg is laid and incubated by both sexes in shifts for 50 days.
References
Clements, J. F., T. S. Schulenberg, M. J. Iliff, D. Roberson, T. A. Fredericks, B. L. Sullivan, and C. L. Wood. 2015. The eBird/Clements checklist of birds of the world: v2015, with updates to August 2015. Downloaded from http://www.birds.cornell.edu/clementschecklist/download/
Recommended Citation
External Links