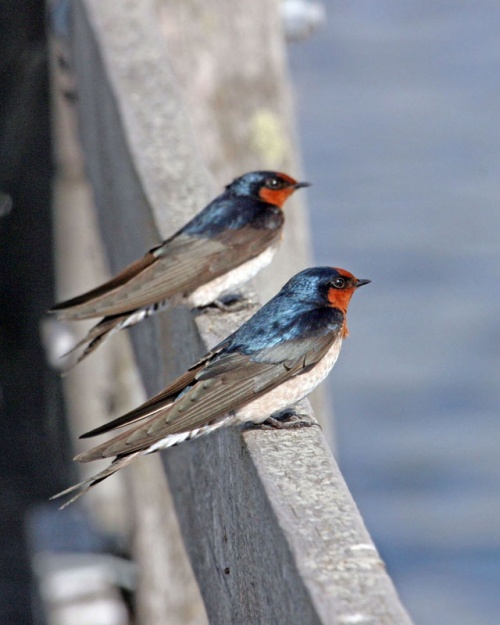 Hirundo neoxena
Identification
13–17 cm (5-6¾ in)
Reddish-chestnut forehead and throat
Metallic blue-black upperparts
Blackish-brown wings and tail
Light grey underparts
Long forked tail, with a row of white spots on the individual feathers

Young birds have a whitish forehead and throat, and have shorter tail streamers
Distribution
Australia and New Zealand.
Taxonomy
Subspecies
Two recognized subspecies[1]:
South-western Western Australia (North West Cape to about Eyre); winters to the north
Breeds in south-eastern and eastern Australia, including Tasmania, with some of the population migrating north to north-eastern Australia, and on Norfolk and Lord Howe Islands. In the mid 20th century also colonized New Zealand, Norfolk Island, and the Chatham Islands
Habitat
A wide variety of open habitats, including coasts, cultivation and inhabited areas, usually near water. They roost in wetlands.
Behaviour
Behaviour
The open cup nest is formed from mud and grass, lined with feathers and fur placed on a rock wall or side of a building. It is built by both adults. The clutch contains 3-5 eggs which are incubated by the female for 14-21 days. Both parents feed the young which fledge after a further 14-21 days. There are usually two broods.
Diet
Their diet consists of insects such as stone-flies, beetles, flies and bugs, taken on the wing.
References
Clements, J. F., T. S. Schulenberg, M. J. Iliff, D. Roberson, T. A. Fredericks, B. L. Sullivan, and C. L. Wood. 2018. The eBird/Clements checklist of birds of the world: v2018. Downloaded from http://www.birds.cornell.edu/clementschecklist/download/
Handbook of the Birds of the World Alive (retrieved November 2015)
Birds in Backyards
Recommended Citation
External Links