This article is incomplete.
This article is missing one or more sections. You can help the BirdForum Opus by expanding it.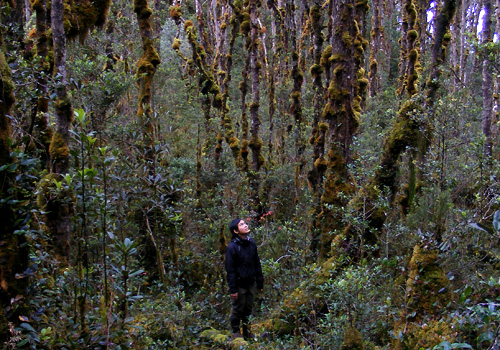 Overview
The western half of the subcontinental island of New Guinea, variously known as Papua, West Papua or Irian Jaya, is a singularly unique tropical wilderness area and a birdwatcher's paradise. In fact, the vast and lush frontier forests of Papua are home to some of the most glorious birds on Earth. Anyone who watched the nearly mythical birds of paradise doing their intimate thing in the highly-acclaimed BBC nature documentary 'Attenborough in Paradise' is destined to long ever beyond to see the real stuff. But Papua has so much more to offer than BOP's alone. The cliché-ridden examples of spectacular avian diversity from many an ornithology textbook all occur here: from the man-heigh, flightless cassowaries and the fascinating megapodes or incubatorbirds, to the glorious crowned-pigeons and amazing bowerbirds. Just short of 680 bird species have now reliably been recorded from the territory, out of slightly more than 700 for the entire New Guinea faunal region. Knowledge of the birdlife of Indonesian Papua, however, is far less comprehensive than that for adjacent Papua New Guinea, and the intrepid and careful observer is bound to make significant observations just about anywhere.
Birds
Notable Species
It is the breeding land- and freshwater avifauna that adorns Papua with a nearly mythical status, comprising over 550 species including 279 widespread regional New Guinea endemics and at least 42 currently recognized species who's distribution is entirely confined to Papua alone. Species richness is high, lowland forests typically sporting close to 200 different resident breeding birds. New Guinea forest bird communities differ markedly from elsewhere, however, in featuring an unusually high proportion of fruit- and nectar-eaters as well as ground-dwellers, but no wood-borers. Australo-Papuan passerines including fairywrens Malurini, warblers Pardalotidae, robins Eopsaltriidae, honeyeaters Meliphagidae, and the diverse corvid assemblage radiated to fill all niches. Obviously, of prime interest, are the 29 birds of paradise (here including Melampitta but discounting Macgregoria) scattered across the territory. Among these, the Wilson's Bird of Paradise Cicinnurus respublica of Waigeo and Batanta in the fabled Raja Ampat archipelago, has widely been claimed by seasoned world birders to be one of the best-looking birds roaming the face of this planet! Finally, some 115 Palearctic and Australian migrants, including vagrants and seabirds, have also been recorded from Papua, and its southeastern Trans-Fly zone, which includes the famed Wasur National Park, is a globally significant staging and wintering ground for waders and waterfowl.
Rarities
Check-list
Birds you can see here include:
Areas of Interest
The paramount centres of avian endemism in Papua (in declining order of importance) are the isolated Arfak Mountains on the Bird's Head Peninsula, the oceanic twin islands of Biak-Supiori plus nearby Numfor in Geelvink Bay, the Snow Mountains along the central cordillera, and the Waigeo ophiolitic suite comprising the islands of Waigeo, Batanta and Kofiau in the Raja Ampat archipelago. Moreover, the vast lowland forests effectively isolated to the north and south of the central dividing range, harbour a presently still underestimated endemism component on a much grander scale.
Arfak Mountains
Since Dutch colonial times these mountains are one of the most frequently explored and best known regions of western New Guinea. They support all of the 10 presently described, so-called 'Vogelkop' endemics and provide straightforward access to largely untouched foothill, hill and montane forests that support a wonderfully diverse avifauna. Among the Vogelkop endemics are the Vogelkop Bowerbird Amblyornis inornatus, which surely builds the most complex avian structure on Earth, the little-known Arfak Astrapia Astrapia nigra, the highly-prized Long-tailed Paradigalla Paradigalla carunculata, and the wacko Western Parotia Parotia sefilata, who's ballerina dance almost has to be seen to be believed. In addition, 15 of the 21 restricted-range species present in the Bird's Head region can be seen in the Arfak Mountains.
Geelvink Islands
The deep-water twin islands of Biak and Supiori are only separated from one another by a narrow mangrove-lined channel and harbour the most highly endemic avifauna of any land area in the New Guinea region. In total, 11 endemic taxa have now widely become accepted at the species level, most notably including a megapode, a paradise-kingfisher, a regionally unique scops owl, and two parrots. Numfor Island lies approximately 60 kilometres to the southwest and further boasts its own endemic kingfisher, the glorious Numfor Paradise Kingfisher Tanysiptera carolinae. In addition, another staggering 25, often morphologically highly distinctive, endemic subspecies exist on the islands.
Snow Mountains
The discovery in 1938 of the densely populated and agriculturally advanced Balim Valley in the heart of the Snow Mountains by American mammalogist, explorer and millionaire, Richard Archbold, may well have been the last great feat of the age of exploration. Following in Archbold's footsteps, an exquisite selection of the wonderfully diverse montane Papuan avifauna can be seen when hiking through cultivation and upper montane forests up the Ibele Valley onto the Lake Habbema alpine plateau at 3,200 m elevation above the timberline, in the shadow of Mount Trikora or Wilhelmina, New Guinea's second peak. Getting to grips with the MacGregor's 'Bird of Paradise' Macgregoria pulchra here, in some of the most splendid mountain scenery this side of the Himalayas, is quite simply 'over the top', regardless of whether this is a bird of paradise or a member of the honeyeater family. While only three bird species are genuinely confined to the Snow Mountains, a staggering 33 montane restricted-range species occur.
Waitanta
At the northern end of the Raja Ampat archipelago off New Guinea's westernmost tip, Waigeo and Batanta, once fused to a single landmass 'Waitanta', support a varied lowland and hill forest avifauna with a 'peculiar' endemism component, to say the least. In fact, every self-respecting world birder is bound to at least once in a lifetime undertake the pilgrimage to Waitanta's endemic avian delights, which include the endangered Waigeo Brushturkey Aepypodius bruijnii, and the nearly mythical Wilson's Cicinnurus respublica and Red Bird of Paradise Paradisaea rubra. The brush-turkey only occurs on Waigeo, and then quite likely only east of the visually stunning Mayalibit Bay that divides the island in roughly two equal halves. Furthermore, Waigeo boasts the highest number of land and fresh water bird species of any island in the Raja Ampat group, including the delightful Western Crowned-Pigeon Goura cristata and mysteriously distributed Brown-headed Crow Corvus fuscicapillus.
Kofiau
This oceanic Raja Ampat island features a generally rather depauperate avifauna with a decidedly Moluccan element, but importantly includes two endemic allospecies: Kofiau Paradise Kingfisher Tanysiptera ellioti and Kofiau Monarch Monarcha julianae. Both are readily seen, as are a limited selection of restricted-range and more widespread goodies.
Northern lowlands
The vast alluvial lowland forests just west of the Cyclops Mountains near Jayapura are an excellent place to secure a great selection of New Guinea's northern lowlands specialties, including the Victoria Crowned-Pigeon Goura victoria, and the little-known Pale-billed Sicklebill Epimachus bruijnii.
Trans-Fly and Wasur National Park
Many key species of New Guinea's southern lowlands, including Sclater's Crowned-Pigeon Goura sclaterii and Greater Bird of Paradise Paradisaea apoda, can still be seen in and around the famed Wasur National Park near Merauke within the so-called Trans-Fly zone. This is an extensive plain of seasonally flooded grassland, marshes, reedbeds, savanna, woodland and monsoon forest, bordered by the Digul, Fly and Aramia rivers: in essence, a little piece of Australia, isolated within New Guinea. Not surprisingly therefore, the area harbours the most distinctive avifauna within New Guinea with four endemic species and heaps of Australian specialties. Wasur is also a globally significant staging and wintering ground for water birds from both the Palearctic and Australia.
Vogelkop lowlands
The lowlands of the Vogelkop or Bird's Head peninsula still support extensive tracts of alluvial and foothill forest, inhabited by a wonderfully varied and colorful avifauna. The region is home to eight restricted-range species, including the gorgeous Red-breasted Paradise Kingfisher Tanysiptera nympha, the Black Lory Chalcopsitta atra, the delightful Western Crowned-Pigeon Goura cristata, and mysteriously distributed Painted Quail-thrush Cinclosoma ajax. A whopping seven widespread lowland bird of paradise species can also be seen, out of which the Twelve-wired Bird of Paradise Seleucidis melanoleuca perhaps stands out as particularly sought-after. The Vogelkop lowlands are most easily visited from the town of Sorong on the western tip of the Bird's Head peninsula. Here large tracts of foothill forest survive less than 45 minutes driving out of the town's center.
Other Wildlife
The land is very rich in plantlife, many species of orchids and a paradise for marsupials, such as the Tree Kangaroo, Bandicoot, Ring-tailed possum, Cuscus and Wallaby.
Reptiles include many species of Snakes, Crocodiles, Sea Turtles such as the giant Leatherback Turtle, Frill-necked Lizard and Monitor Lizard and the longest Varanid species on the planet. Dugong may be found offshore and the Spiny Anteater inhabits the interior.
Insect life is abundant, many colorful Butterflies and hosts to over 800 species of spiders alone.
Site Information
The Province offers unspoilt, world-class underwater marinelife, according to CI marine survey 2001. The research was carried out around the Raja Ampat Islands, near Sorong, Papua, Indonesia.
Access and Facilities
Contact Details
External Links
Content and images originally posted by Kris Tindige; current content and images posted by Papuaphile