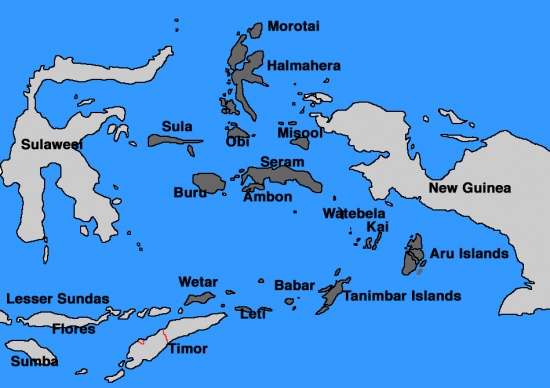 The Moluccas are a group of islands in Indonesia.
They are situated west of New Guinea, northwest of Australia, east of Sulawesi and the Lesser Sundas.
Politically they form two Indonesian provinces:
Ambon
Aru
Babar
Banda
Buru
Kai
Kisar
Leti
Seram
Tanimbar
Wetar
Ternate
Bacan
Halmahera
Morotai
Obi
Sula
Tidore
They lie in Wallacea, the biogeographical area between Asia and Australia. Their avifauna is more Australasian than Asian and families like Birds-of-paradise, Honeyeaters or Whistlers are represented by many endemic species.
The logging of rainforest for timber and the growing populations of the islands are a big threat to the future of many species.