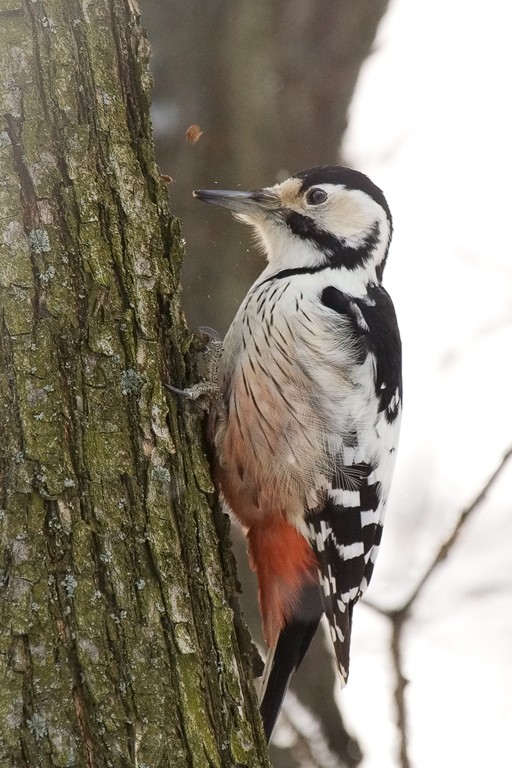 Dendrocopos leucotos
Identification
24-26 cm. (9½-10¼ in.)

Back and wings barred white and black.
Lacks white wing patches.
White below with pink belly.
Breast and flanks streaked with black.
Strong black malar stripe.
White back often inconspicuous.
Juvenile duller, browner, red vent paler. Males have red crown, females usually black but sometimes with reduced red.
Similar Species
Middle Spotted Woodpecker is smaller, lacks black moustache. Great Spotted Woodpecker and Syrian Woodpecker also have obvious white wing patches, usually lack red crown except juveniles.
Distribution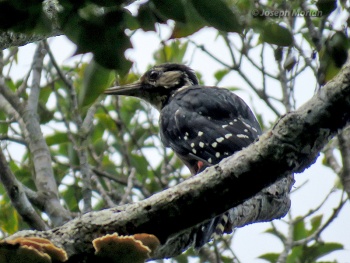 Breeds in Europe and across Asia to the Pacific. In the Western Palearctic has a patchy and discontinous range breeding in the Pyrenees, southern Apennines and Alps, throughout the upland areas of the Balkans, in the Carpathians and from the Ukraine, east Poland and Belarus east across Russia to the Urals. In the north breeds in southern Norway and central and south Sweden, south-east Finland, Estonia and Latvia and in Russia north to about 610N. Also breeds in the Caucasus and at a very few scattered localities in Turkey. Decreasing in Scandinavia, particularly in Sweden. May have occurred on Corsica in the past with both old and more recent unconfirmed reports. Range extends across Asia to China, Korea, Sakhalin and Japan and there are isolated populations on Taiwan and in Sichuan and Fujien in China. Vagrants recorded in Belgium and Denmark. Has recently established a small population in Switzerland.
Taxonomy
This is a polytypic species[1].
Subspecies
Ten races usually recognised. Lilfordi and owstoni sometimes split as separate species.
D. l. leucotos: over most of Europe and east to the Pacific
D. l. uralensis: in the Urals in which the pale plumage is much whiter and more extensive above.
D. l. lilfordi: Southern Europe and Turkey is lightly larger and has been considered a separate species. This race has the white of the face tinged yellow and black bars of the face broader, back barred with black and flanks more heavily streaked.
D. l. subcirris: Hokkaido. It is slightly larger than nominate with buffier face, heavier black markings on face and breast and pinker undertail.
D. l. stejnegeriIn northern Honshu smaller and darker stejnegeri occurs with partly barred rump, redder vent and less white on wing coverts.
D. l. takahashii: Most of Japanese range. It has shorter bill and paler underparts.
D. l. owstoni: Largest and darkest race with all dark back. It is confined to Amami-Oshima in the Ryukyu Islands. Sometimes treated as a separate species.
D. l. insularis: Smallest race occurs on Taiwan.
D. l. fokhiensis: Isolated Fujien race. Another dark subspecies.
D. l. tangi: Sichuan is similar but larger.
Habitat
Coniferous, mixed or deciduous woodland and forest, usually fairly open, even hillsides with scattered trees in some areas. Requires dead and dying trees so does not survive in heavily managed forests.
Behaviour
Breeding
Nest hole excavated in a decaying tree trunk. 3-5 white eggs are laid and are incubated for 10-11 days.
Diet
Includes wood-boring beetles and their larvae, as well as other insects, nuts, seeds and berries.
Vocalisations
Soft and low "grig" or "kyig" notes. Drumming is long, fast and accelerating.
Movements
Resident but may also be dispersive, and possibly nomadic.
References
Clements, J. F., T. S. Schulenberg, M. J. Iliff, S. M. Billerman, T. A. Fredericks, B. L. Sullivan, and C. L. Wood. 2019. The eBird/Clements Checklist of Birds of the World: v2019. Downloaded from http://www.birds.cornell.edu/clementschecklist/download/
Brazil, M. (1991). The Birds of Japan. Smithsonian Inst. Press.
Brazil, M. (2018). Birds of Japan. Helm, London. ISBN 978-1-4729-1386-9
BirdLife International 2016. Dendrocopos owstoni. The IUCN Red List of Threatened Species 2016: e.T22727132A94941890. http://dx.doi.org/10.2305/IUCN.UK.2016-3.RLTS.T22727132A94941890.en. Downloaded on 04 October 2019.
del Hoyo, J., Collar, N. & Christie, D.A. (2019). Amami Woodpecker (Dendrocopos owstoni). In: del Hoyo, J., Elliott, A., Sargatal, J., Christie, D.A. & de Juana, E. (eds.). Handbook of the Birds of the World Alive. Lynx Edicions, Barcelona. (retrieved from https://www.hbw.com/node/467493 on 4 October 2019).
Winkler, H., Christie, D.A. & Nurney, D. (1995) Woodpeckers: An Identification Guide to Woodpeckers of the World. Houghton Mifflin.
Recommended Citation
External Links