Amaurornis phoenicurus
Identification
28–33 cm (11-13 in)
Dark grey upperparts and flanks, white face, neck and breast, cinnamon belly and undertail. The body is flattened laterally to allow easier passage through the reeds or undergrowth. They have long toes, a short tail and a yellow bill and legs. Sexes are similar, but immature birds are much duller versions of the adults. The downy chicks are black.[3]
Distribution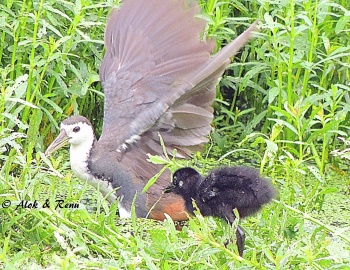 Southern Asia, the Philippines, the Malay Archipelago and many smaller islands including the Maldives1, Nicobar Islands, Sulawesi, Moluccas, and the Lesser Sunda Islands.
Taxonomy
Plain Bush-hen (A. olivacea), Rufous-tailed Bush-hen (A. moluccana), and Talaud Bush-hen (A. magnirostris) were formerly considered conspecific within White-breasted Waterhen.
Subspecies
Four subspecies are recognized2:
Habitat
Marshes.
Behaviour
Breeding
They nest in a dry location on the ground in marsh vegetation, laying 6-7 eggs.[3]
Diet
They probe in mud or shallow water; or they forage on the ground or in low bushes and small trees. The diet includes insects, small fish and seeds. [3]
Vocalisation
Call recorded at the beginning of spring, many individuals were calling.

Listen in an external program Listen in an external program
Recording by Alok Tewari
Bharatpur Keoladeo National Park, India, February-2016
Call by one individual sitting in a bush on the edge of a water-body, can be heard in the recording below :

Listen in an external program Listen in an external program
Recording by Alok Tewari
Delhi, India, August-2012

References
Thread in Id forum of Birdforum
Clements, J. F., T. S. Schulenberg, M. J. Iliff, D. Roberson, T. A. Fredericks, B. L. Sullivan, and C. L. Wood. 2016. The eBird/Clements checklist of birds of the world: v2016, with updates to August 2016. Downloaded from http://www.birds.cornell.edu/clementschecklist/download/
Wikipedia
Recommended Citation
External Links