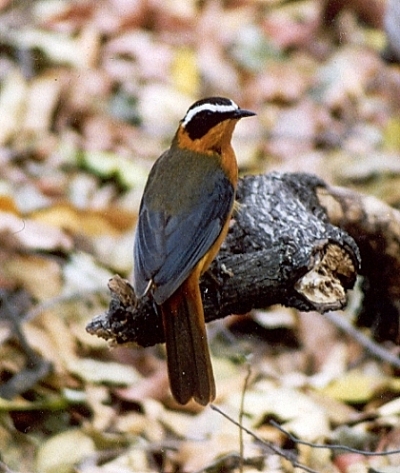 Identification
Length 18-20 cm (7-7¾ in), mass 29-44 g.
Orange underparts and tail
Grey upper parts
Broad white eyebrow
Dark eye
Grey legs and feet
Distribution
Africa south of Sahara:
Western Africa: Nigeria, Chad, Cameroon, Central African Republic, Equatorial Guinea, Gabon, Democratic Republic of Congo, Angola
Eastern Africa: Sudan, South Sudan, Ethiopia, Somalia, Kenya, Uganda, Rwanda, Burundi, Tanzania, Zambia, Mozambique, Malawi
Southern Africa: Namibia, Botswana, Zimbabwe, South Africa, KwaZulu-Natal, Swaziland
Taxonomy
Subspecies
As many as seven subspecies have been described2, but Clements1 recognises three:
Habitat
Riverine woodland and forest, and moist savanna.
Behaviour
Diet
The diet consists of insects, beetles and ants, caterpillars, moths, grasshoppers, and other small invertebrates. Fruits are also eaten.
Breeding
Monogamous and territorial; they nest in a tree stump cavity. The clutch consists of two to three eggs which are incubated by the female for 12–17 days.
References
Clements, J. F., T. S. Schulenberg, M. J. Iliff, D. Roberson, T. A. Fredericks, B. L. Sullivan, and C. L. Wood. 2017. The eBird/Clements checklist of birds of the world: v2017, with updates to August 2017. Downloaded from http://www.birds.cornell.edu/clementschecklist/download/
Avibase
Hockey PAR, Dean WRJ & Ryan PG (eds) 2005. Robert's Birds of Southern Africa, 7th edition. John Voelcker Bird Book Fund, Cape Town, South Africa. ISBN 0620340533
Recommended Citation
External Links