Alternative name: White-cheeked Bulbul[1]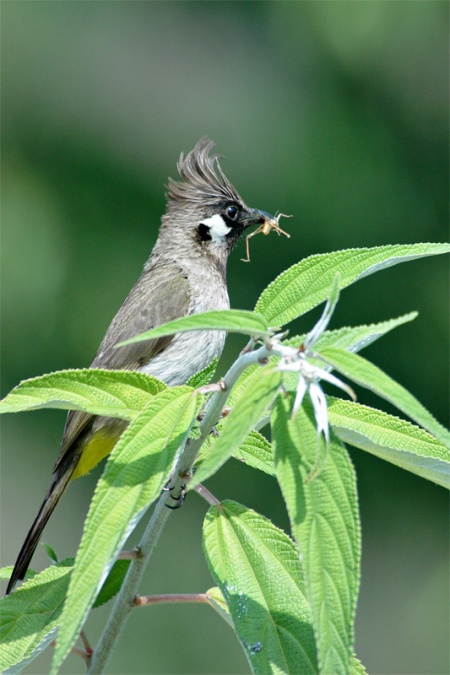 Pycnonotus leucogenys
Identification
19–20 cm (7½-8 in)
This species is distinguished by its black head, white cheeks and yellow patch under tail.
Distribution
It is a widespread resident in Himalayas, but also found west to Iraq and the Arabian Peninsula.
Taxonomy
This is a monotypic species[1].
The former subspecies humii is now believed to be a hybrid population between White-eared Bulbul and Himalayan Bulbul.
The species has recently been split from White-eared Bulbul (Pycnonotus leucotis); the pre-split species used to be called White-cheeked Bulbul.
Habitat
Wooded valleys and bushy hillsides.
Behaviour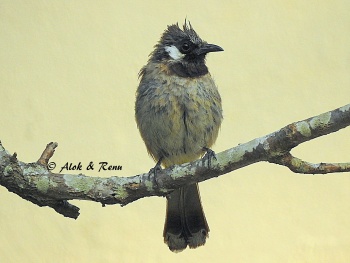 Diet
Their diet consists of berries, mistletoe, seeds and buds.
Vocalisation
Listen in an external program Listen in an external program
Recording by Alok Tewari
Dwarahat, Almora, Himalayas, Alt 5000 ft above MSL, India, Oct.-2016
Song of one individual at day break.
References
Clements, J. F., T. S. Schulenberg, M. J. Iliff, D. Roberson, T. A. Fredericks, B. L. Sullivan, and C. L. Wood. 2017. The eBird/Clements checklist of birds of the world: v2017, with updates to August 2017. Downloaded from http://www.birds.cornell.edu/clementschecklist/download/
Gill, F and D Donsker (Eds). 2014. IOC World Bird Names (version 4.3). Available at http://www.worldbirdnames.org/.
Recommended Citation
External Links
Notice that the following Gallery search may find both this species and the White-eared Bulbul, because the scientific name stayed the same as the pre-split name.