Pycnonotus leucotis
Identification
18cm
Medium grey body
Black head
Rounded black crest
White patch over the ear coverts
Yellow vent
Feet and legs mottled dark grey or brown
Distribution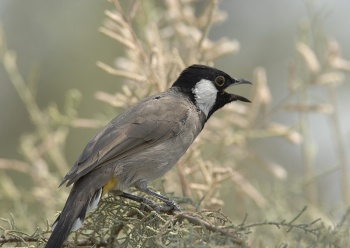 Middle East and Asia: found from eastern Iraq, the Arabian Peninsula, through southern Iran to southern Afghanistan and western India.
Taxonomy
Three subspecies recognized:
It was recently split from Himalayan Bulbul; the pre-split name was White-cheeked Bulbul.
Habitat
Wetland reed beds, sparse brush, desert Valleys, farms, urban gardens and parkland.
Behaviour
Breeding
The clutch of 2-3 eggs are incubated for 14-15 days.
Diet
The diet includes fruits and insects.
Vocalisation
It has a melodious call.

Recording by Alok Tewari
Keoladeo National Park, India, June-2017
Six loud and sonorous calls given by one individual while the BG screechy calls are by a group of Bank Mynas.
References
Clements, J. F., T. S. Schulenberg, M. J. Iliff, D. Roberson, T. A. Fredericks, B. L. Sullivan, and C. L. Wood. 2015. The eBird/Clements checklist of birds of the world: v2015, with updates to August 2015. Downloaded from http://www.birds.cornell.edu/clementschecklist/download/
nfss.org
BF Member observations
Recommended Citation
External Links