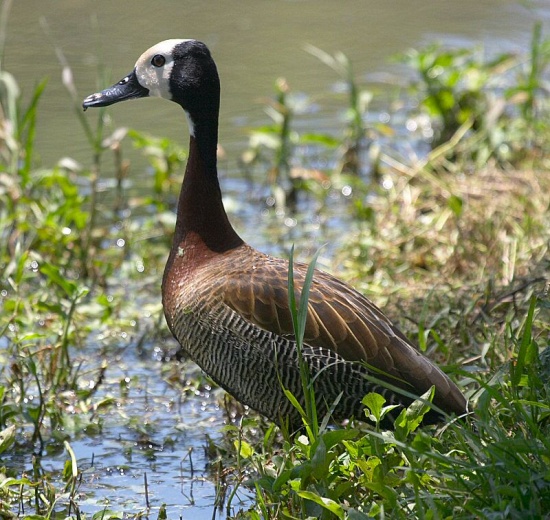 Dendrocygna viduata
Identification
38–48 cm (15-19 inches)
White face and crown
Black rear head
Dark brown to black back and wings
Black underparts
Finely barred white flanks
Chestnut neck
Long grey bill
Juveniles have a more muted head pattern.
Distribution
Sub-Saharan Africa and much of South America:
South America: Colombia, Venezuela, Guyana, Suriname, Bolivia, Brazil, Paraguay, Uruguay, Argentina
Western Africa: Mauritania, Senegal, The Gambia, Guinea-Bissau, Guinea, Mali, Liberia, Ivory Coast, Burkina Faso, Ghana, Togo, Nigeria, Niger, Chad, Cameroon, Central African Republic, Equatorial Guinea, Gabon, Democratic Republic of Congo, Angola, Zaire
Eastern Africa Sudan, South Sudan, Eritrea, Ethiopia, Somalia, Kenya, Uganda, Rwanda, Burundi, Tanzania, Zambia, Mozambique, Malawi

Southern Africa: Namibia, Botswana, Zimbabwe, South Africa, KwaZulu-Natal, Lesotho, Swaziland
African Islands: Cape Verde, Madagascar
Taxonomy
This is a monotypic species[1].
Habitat
A wide variety of wetlands, including still freshwater lakes or reservoirs, with plentiful vegetation.
Behaviour
Breeding
They nest on a stick platform near the ground, sometimes in trees. The clutch consists of 8-12 eggs.
Diet
Their varied diet consists of grass seeds and rice, with the addition of some aquatic invertebrates.
Vocalisation
Call': a clear three-note whistling call.
References
Clements, J. F., T. S. Schulenberg, M. J. Iliff, D. Roberson, T. A. Fredericks, B. L. Sullivan, and C. L. Wood. 2014. The eBird/Clements checklist of birds of the world: Version 6.9., with updates to August 2014. Downloaded from http://www.birds.cornell.edu/clementschecklist/download/
Avibase
Handbook of the Birds of the World Alive (retrieved June 2015)
Wikipedia
Recommended Citation
External Links