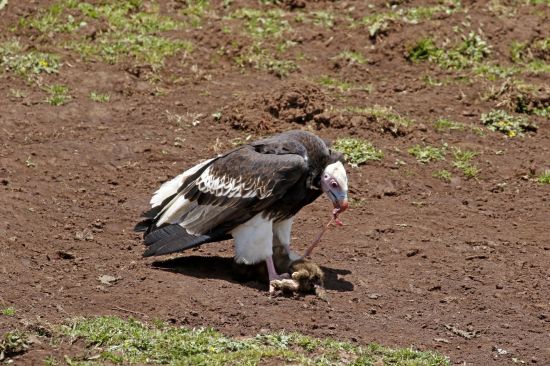 Trigonoceps occipitalis
Aegypius occipitalis
Identification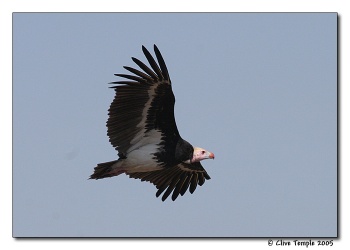 Length 85 cm, mass 3.3-5.3 kg, females larger than males

White crest
Pale featherless areas on its head
Dark brown upperparts
Black tail
White lower parts and legs
Pink bill
Wing span 2 metres.
Distribution
Africa: breeds across sub-Saharan Africa from Senegal east to Ethiopia and north-west Somalia and south through the eastern half of the continent to the Cape. Uncommon over large parts of range. may still breed in northern Mauritania, the Tibesti of northern Chad and in south-east Egypt.
Now extinct as a wild bird in Israel, where formerly bred in the Negev Desert but may still breed within the Western Palearctic in northern Saudi Arabia.
Adults are sedentary but young birds may wander widely. Small numbers are regularly seen in southern Egypt especially between Aswan and Abu Simbel and still occasionally recorded in Israel. Formerly more widespread as a breeding bird in North-West Africa but now largely a vagrant. Also recorded in Syria, Jordan and in Libya.
In addition, there is one 19th Century record from France and possibly also recorded in Spain.
Taxonomy
This is a monotypic species[1].
Habitat
Semi-desert and sparsely wooded grasslands.
Behaviour
It roosts in tall trees near to water at night.
Breeding
The nest is built in the top of an acacia. One egg is laid and incubated by both parents for 55-56 days. The chick will fledge at approximately four months.
Diet
The diet includes carrion and small mammals.
References
Clements, JF. 2010. The Clements Checklist of Birds of the World. 6th ed., with updates to December 2010. Ithaca: Cornell Univ. Press. ISBN 978-0801445019. Spreadsheet available at http://www.birds.cornell.edu/clementschecklist/Clements%206.5.xls/view
ARKive
Recommended Citation
External Links