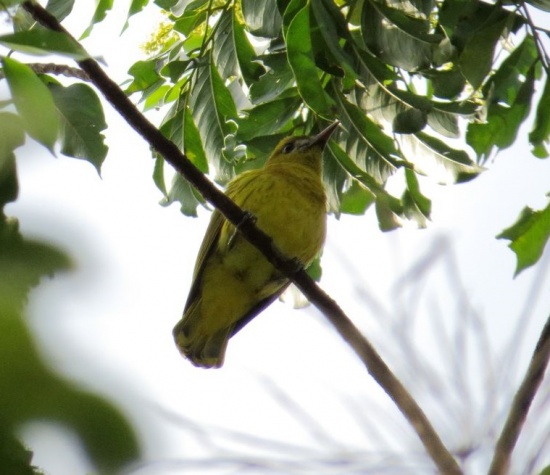 Oriolus albiloris
Identification
18-20cm (7-7¾ in)
Uniformly yellowish-olive upperparts
Whitish lores
White chin
Uniformly yellow throat and underparts, lightly streaked olive on lower chest and flanks
Darker wing
Yellow-olive uppertail, yellow undertail
Sexes similar.
Distribution
Endemic to the northern Philippines (Luzon).
A fairly common restricted-range species.
Taxonomy
This is a monotypic species.
It's sometimes considered conspecific with Philippine Oriole, however it may be closer related to Isabela Oriole.
Habitat
Occurs in forest, forest edge and second growth, usually below 1200m.
Behaviour
Diet
No information on diet.
Usually seen foraging singly, in pairs or small flocks in the canopy. Sometimes in mixed-species flocks.
Breeding
Birds with enlarged gonads recorded from May to June, almost grown young birds seen in August. No other information.
Movements
A sedentary species.
References
Clements, J. F., T. S. Schulenberg, M. J. Iliff, D. Roberson, T. A. Fredericks, B. L. Sullivan, and C. L. Wood. 2018. The eBird/Clements checklist of birds of the world: v2018. Downloaded from http://www.birds.cornell.edu/clementschecklist/download/
Del Hoyo, J, A Elliott, and D Christie, eds. 2008. Handbook of the Birds of the World. Volume 13: Penduline-tits to Shrikes. Barcelona: Lynx Edicions. ISBN 978-8496553453
Recommended Citation
External Links