This article is incomplete.
This article is missing one or more sections. You can help the BirdForum Opus by expanding it.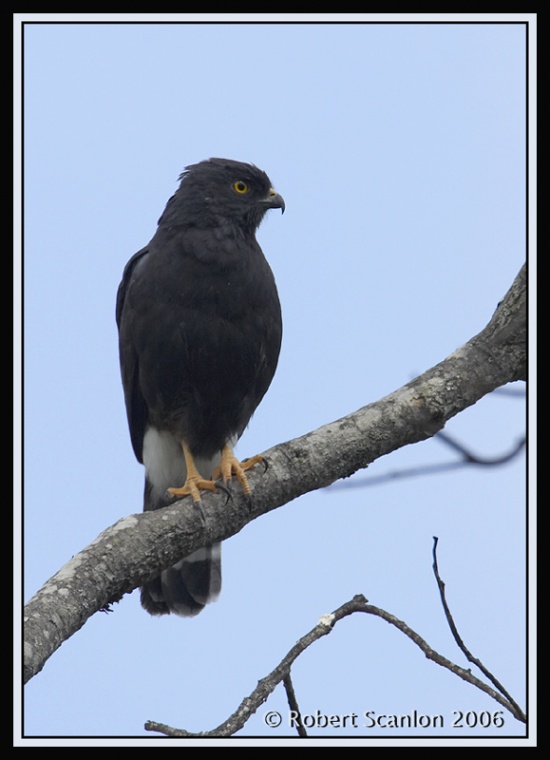 Parabuteo leucorrhous
Buteo leucorrhous
Identification
Distribution
South America: found in Colombia, Venezuela, Ecuador, Peru, Bolivia, Brazil, Paraguay and Argentina.
Taxonomy
This is a monotypic species[1].
Percnohierax vs. Buteo
Molecular evidence by Reising et al. (2003) presented evidence for Buteo being polyphyletic in its current treatment. According to the data, Buteo could retain its monophyly if the Roadside Hawk was placed in the monotypic genus Rupornis and the White-rumped Hawk was placed in the monotypic genus Percnohierax. Alternatively, if these two species stayed in Buteo, genera Parabuteo and Geranoaetus would need to be placed in Buteo to avoid paraphyly. Most authorities now place White-rumped Hawk in the genus Parabuteo.
Habitat
Cloud forest.
Behaviour
References
Clements, J. F., T. S. Schulenberg, M. J. Iliff, B.L. Sullivan, C. L. Wood, and D. Roberson. 2013. The eBird/Clements checklist of birds of the world: Version 6.8., with updates to August 2013. Downloaded from http://www.birds.cornell.edu/clementschecklist/download/
Avibase
Recommended Citation
External Links