Alternative name: Asian White-backed Vulture
Gyps bengalensis
Identification
76–93 cm
Mainly black plumage
White lower back
White underwing coverts
Distribution
Lowlands of Iran

Southern Asia: formerly widespread and common from northern and eastern Pakistan, throughout India, Burma and south-west China east to Vietnam and south to the central Malay Peninsula.
In dramatic decline in recent years through an epidemic caused by livestock drugs affecting Gyps vultures in Asia. Numbers have dropped to less than 10% of former population.
Sightings on Pokhara Valley of Nepal: White-rumped vulture has been sighted along the Seti river on the Bombax ceiba trees on the cultivated lands on the riverside. Future surveys will identify in what number they occur. Now it is only confirmed that this species is found in Pokhara valley of Nepal.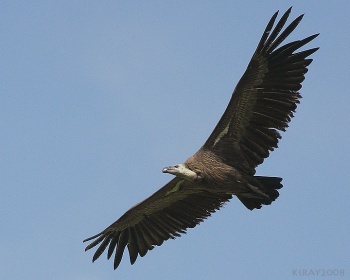 Taxonomy
This is a monotypic species[1].
Sometimes considered as conspecific with African White-backed Vulture G. africanus.
Habitat
Searches for carrion over farmland and grassland, often occurs close to towns and villages.
Behaviour
Breeding
Nests in trees.
Diet
Their diet consists almost entirely of carrion.
References
Clements, J. F., T. S. Schulenberg, M. J. Iliff, D. Roberson, T. A. Fredericks, B. L. Sullivan, and C. L. Wood. 2016. The eBird/Clements checklist of birds of the world: v2016, with updates to August 2016. Downloaded from http://www.birds.cornell.edu/clementschecklist/download/
Handbook of the Birds of the World Alive (retrieved November 2014)
Recommended Citation
External Links