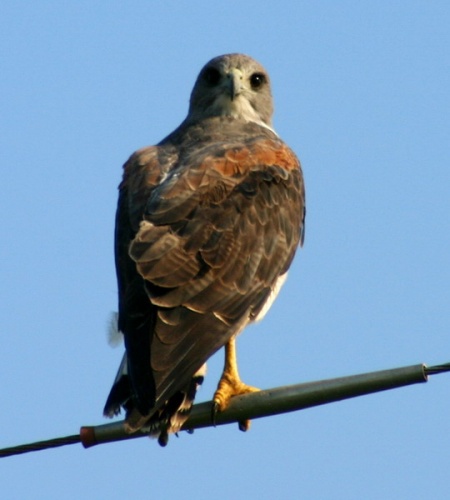 Geranoaetus albicaudatus
Identification
44–60 cm (17¼-23½ in)
A bulky hawk with a short white tail with a black sub-terminal band.
The common pale morph has white underparts and rump, dark gray back and rusty-colored shoulder patches. The rarer dark morph is, except for the tail, almost entirely brownish-black.
Juveniles are mainly blackish with variable whitish markings on the underparts and head.
Distribution
South-eastern Texas, through Central America, and most of South America east of the Andes as far south as central Argentina. It is absent from densely forested regions (e.g. most of the Amazon).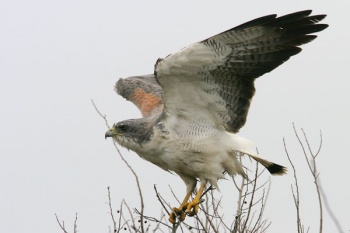 Taxonomy
Formerly placed in the genus Buteo.
Subspecies
Three subspecies are recognized1:
Avibase2 mentions one additional subspecies sennetti?
Habitat
Open or semi-open habitats, grasslands.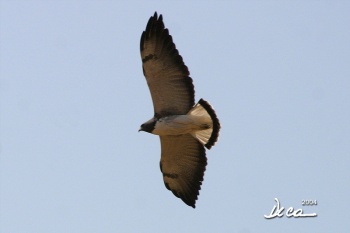 Behaviour
The White-tailed Hawk in active flight has slower wing beats that most other North American Buteos. When soaring and to some extent when gliding, wings are held above horizontal. This species is also able to "kite", i.e., staying airborne against the wind without flapping.
Seems to spend a lot of time keeping its feathers in good shape (preening).
Diet
It feeds on insects, reptiles, mammals, amphibians or even smaller birds. Some of its prey might be caught while the bird is walking on the ground. Can be seen near roads, where, like the Southern Caracara (Caracara plancus), it waits for road-killed prey.
Vocalisation
The primary calls of adult birds are best described as alarm calls, given if an intruder is noticed within territory or approaching the nest. The two sexes give slightly different versions of this call, described as "aaaa, ke-HAK, ke-HAK, ke-HAK" for males and "aaaa, KUT-uh, KUT-uh, KUT-uh" for females. This call can also be given outside breeding season, indicating that territories might be defended year round.
Breeding
In North America during the first months of the year, with territoriality starting before new year, but timing obviously differ in different parts of its large range. Nest is placed in top of a bush or large cactus, only a few meters above ground, frequently in relatively open areas within the territory. Nesting often results in two hatchlings, hatched asynchronously. In years with poor food availability, the older hatchling is more likely to survive. One brood per year, but if first set of eggs lost, may re-nest.
Gallery
Click on photo for larger image
Juvenile, subspecies hypospodius
Photo © by Stanley Jones
Southeast of Bruni, Webb County, Texas, USA, 2 November 2016
References
Clements, J. F., T. S. Schulenberg, M. J. Iliff, D. Roberson, T. A. Fredericks, B. L. Sullivan, and C. L. Wood. 2018. The eBird/Clements checklist of birds of the world: v2018. Downloaded from http://www.birds.cornell.edu/clementschecklist/download/
Avibase
Birds of North America online
Recommended Citation
External Links