Buteo albigula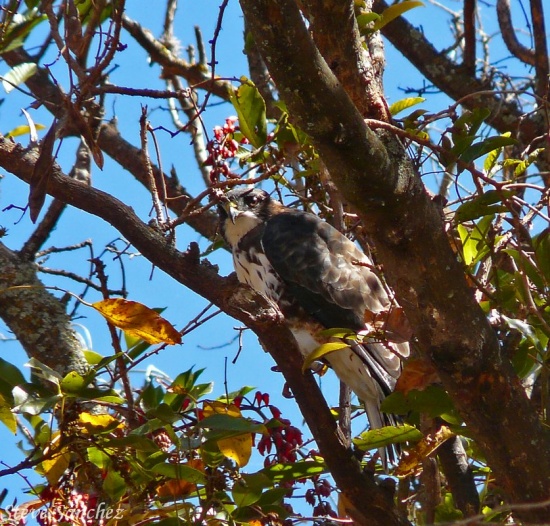 Identification
42-45cm
Adult: Brownish upperside including upperside of tail and neck, head, and crown. Throat is white, separated from the breast by incomplete brown collar. Underside is mostly white but with brownish markings on the flanks, and sometimes also on breast and belly. Pale underside of wings with dark comma but not patagial mark. Pale underside of tail with narrow darker bands, but not a broad terminal black band.
Juvenile similar but with more extensive streaks on underside, and often also a cinnamon wash; side of head streaked and not solid dark like adult.
In flight notice bulging secondaries; wings are held flat when soaring.
Distribution
South America: found in Colombia, Venezuela, Ecuador, Peru, Chile and north-western Argentina.
Birds seen from Peru north-wards are thought to be Austral migrants; completely leaves Chile in winter.
Taxonomy
This is a monotypic species[1].
Habitat
Forests, especially Notophagus (southern birch) in breeding season. From sea level to as far up as good forests occur.
Behaviour
The diet includes insects, rodents, and birds.
References
Clements, JF. 2009. The Clements Checklist of Birds of the World. 6th ed., with updates to December 2009. Ithaca: Cornell Univ. Press. ISBN 978-0801445019.
Alvaro Jaramillo. 2003. Birds of Chile. Princeton Field Guides. ISBN 0-691-11740-3
Erize et al. 2006 Birds of South America, non-passerines. Princeton Illustrated Checklists, Princeton, New Jersey, USA. ISBN 0-691-12688-7
Avibase
Wikipedia
Neotropical Birds
Recommended Citation
External Links