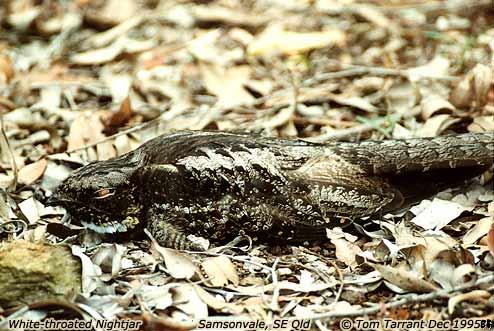 Alternative name: White-throated Eared-Nightjar
Eurostopodus mystacalis
Identification
Long wings extend to tail tip at rest. Only minimal white in wings, no white in tail, but white throat.
Distribution
Australia (coastal eastern areas). Some birds migrate to Papua New Guinea.
Taxonomy
This is a monotypic species.
Formerly considered conspecific with Solomons Nightjar and New Caledonian Nightjar.
Habitat
Dry forests to coastal heath.
Behaviour
Nocturnal and/or crepuscular. Southern populations are migratory.
References
Clements, J. F., T. S. Schulenberg, M. J. Iliff, D. Roberson, T. A. Fredericks, B. L. Sullivan, and C. L. Wood. 2014. The eBird/Clements checklist of birds of the world: Version 6.9., with updates to August 2014. Downloaded from http://www.birds.cornell.edu/clementschecklist/download/
[http://birdforum.net/showthread.php?p=1874287 Birdforum thread discussing taxonomy of Nightjars and Frogmouths.
Pizzey, G. & Knight, F. 1997. Birds of Australia (Collins Field Guide). HarperCollins Publishers, London. ISBN 0-00-220132-1
External Links