Alternative names: White-winged Blue Magpie; Whitehead's Magpie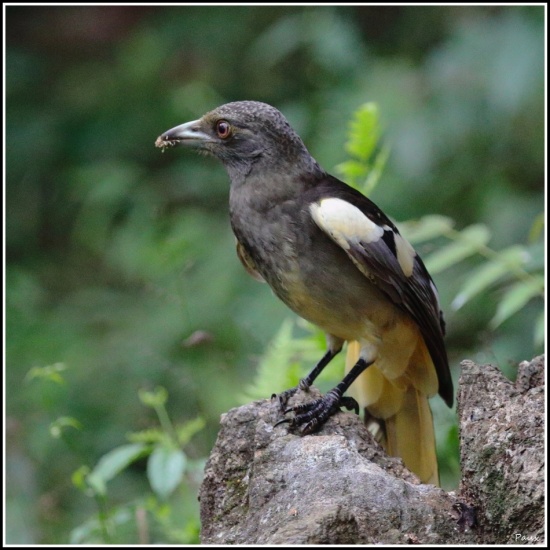 Urocissa whiteheadi
Identification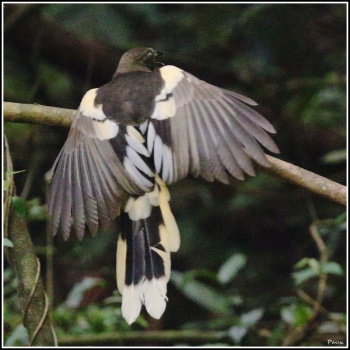 43 - 46cm (17-18 in). A bulky-bodied, distinctive forest magpie.
Sooty brown head, neck and breast
Greyish underparts, shading into pale yellowish on belly and undertail-coverts
Blackish upperparts, yellowish rump and greyish uppertail-coverts
Upperwings boldly patterned white to yellowish-white on blackish background
White lesser and median coverts, forming a band along leading edge of wing
Long, largely black tail with grey central feathers and all feathers with yellow-white or white tips
Heavy red bill
Pale yellow eye, brownish-green bare eye patch
Black legs
Sexes similar. Juveniles have yellowish-grey head and brownish eye.
Distribution
Found in South China (including Hainan) to Laos and northern Vietnam.
On the mainland still quite common but rare on Hainan.
Taxonomy
Subspecies
Two subspecies recognized[1]:
U. w. whiteheadi on Hainan
U. w. xanthomelana in most of its range
Habitat
Tropical broadleaf evergreen forest. Also in secondary forest and edges of cultivation. Occurs from 50m up to 1400m.
Behaviour
Diet
Diet little known. Feeds apparently on invertebrates and berries.
A very sociable species. Moves through the forest in large groups of 20 or more birds.
Breeding
Breeding little known. One described nest was a concave platform which contained 6 eggs.
Movements
A resident species.
References
Clements, J. F., T. S. Schulenberg, M. J. Iliff, D. Roberson, T. A. Fredericks, B. L. Sullivan, and C. L. Wood. 2017. The eBird/Clements checklist of birds of the world: v2017, with updates to August 2017. Downloaded from http://www.birds.cornell.edu/clementschecklist/download/
Del Hoyo, J, A Elliott, and D Christie, eds. 2009. Handbook of the Birds of the World. Volume 14: Bush-shrikes to Old World Sparrows. Barcelona: Lynx Edicions. ISBN 978-8496553507
Recommended Citation
External Links