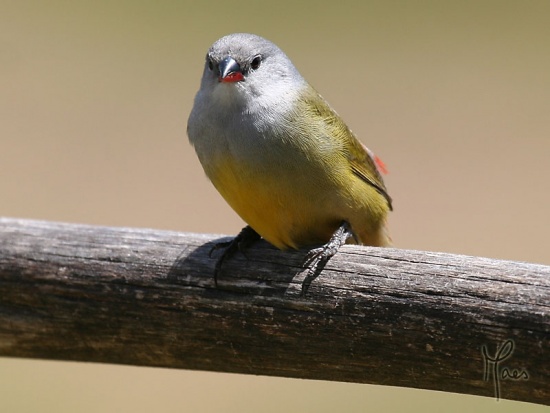 Coccopygia quartinia
Estrilda quartinia
Identification
Length 9-10 cm
A small waxbill with an olive back, red rump, grey head and breast and yellow belly. The upper mandible is black and the lower mandible red (diagnostic).
Distribution
Sub Saharan Africa
Western Africa: found only in Democratic Republic of Congo and Angola
Eastern Africa: Sudan, South Sudan, Eritrea, Ethiopia, Kenya, Uganda, Rwanda, Burundi, Tanzania, Zambia, Mozambique, Malawi
Southern Africa: occurs only in Namibia and Zimbabwe
Taxonomy
Yellow-bellied Waxbill is lumped with Swee Waxbill E. melanotis by some authorities.1
Sometimes placed in the genus Estrilda.
Subspecies
Estrilda quartinia has three subspecies:2
Habitat
Rank vegetation; forest edge and plantations.
Behaviour
Diet
Eats mainly grass seeds, both on the ground and from grass seed-heads.
Vocalisation
A soft swee-swee.
References
BirdLife International. 2008. The BirdLife checklist of the birds of the world, with conservation status and taxonomic sources. Version 1. Downloaded from http://www.birdlife.org/datazone/species/downloads/BirdLife_Checklist_Version_1.zip [.xls zipped 1 MB].
Clements, J. F., T. S. Schulenberg, M. J. Iliff, D. Roberson, T. A. Fredericks, B. L. Sullivan, and C. L. Wood. 2017. The eBird/Clements checklist of birds of the world: v2017, with updates to August 2017. Downloaded from http://www.birds.cornell.edu/clementschecklist/download/
Gill, F and M Wright. 2008. Birds of the World: Recommended English Names. Princeton University Press, Princeton NJ, USA. 2006. ISBN 9780691128276. Update (2008) downloaded from http://worldbirdnames.org/names.html.
Hockey, PAR, WRJ Dean, and PG Ryan, eds. 2005. Roberts' Birds of Southern Africa. 7th ed. Cape Town: John Voelcker Bird Book Fund. ISBN 978-0620340533
Avibase
Recommended Citation
External Links