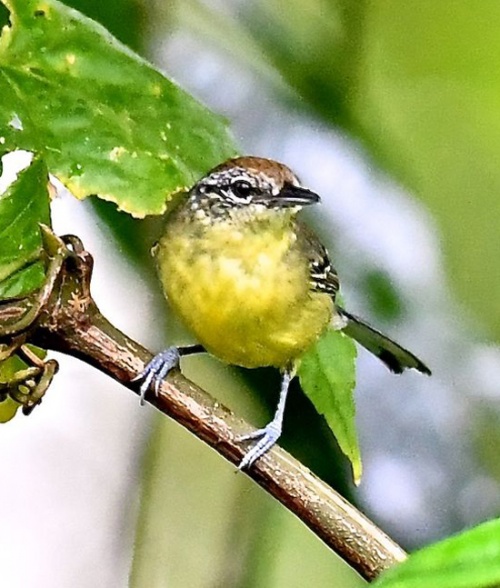 Herpsilochmus axillaris
Identification
11–12 cm (4¼-4¾ in)
Male
Black crown with white spots
Whitish supercilium
Mottled side of head
Olive-yellow upperparts
Distribution
South America: found in Colombia, Ecuador, and Peru.
Taxonomy
Subspecies
There are 4 subspecies[1]
Tropical and subtropical Western Andes of south-western Colombia
Eastern slope of Andes of south-eastern Colombia and eastern Ecuador
Eastern slope of Andes of northern Peru (Loreto to Huánuco)
Eastern slope of Andes of southern Peru (Junín, Cusco and Puno)
Habitat
Humid montane evergreen forests and forest edges, at heights around 800–1900 m.
Behaviour
Diet
Their diet consists almost entirely of insects, and probably spiders too. They are rarely seen alone, but usually in pairs and family groups.
Diet
They forage in pairs or family groups feeding on a variety of insects.
References
Clements, J. F., T. S. Schulenberg, M. J. Iliff, D. Roberson, T. A. Fredericks, B. L. Sullivan, and C. L. Wood. 2018. The eBird/Clements checklist of birds of the world: v2018. Downloaded from http://www.birds.cornell.edu/clementschecklist/download/
Handbook of the Birds of the World Alive (retrieved January 2015 and March 2019)
Recommended Citation
External Links