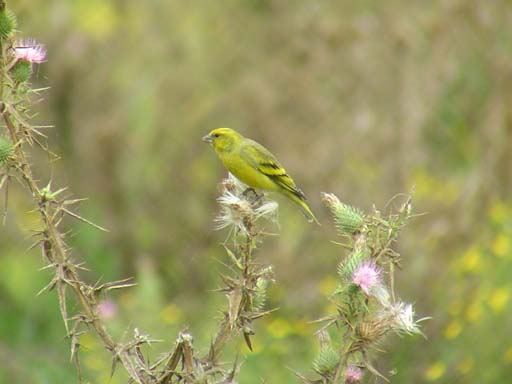 Serinus flavivertex
Identification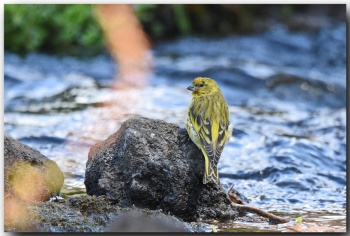 11-13 cm (4-5 in)
Adult male
Golden-yellow forehead and crown
Black and yellow back with black edged wing feathers wings and tail
Bright yellow underparts, rump and tail sides
White lower belly
Cinnamon face

Distribution
Africa: found in highlands from Eritrea to Malawi, and highlands of western Angola.
Taxonomy
Formerly considered conspecific with Cape Canary.
Subspecies
Three subspecies are recognised[1]:
S. f. sassi; south-western Uganda, eastern Zaire, southern Tanzania, northern Malawi and north-eastern Zambia.
S. f. huillensis; highlands of western Angola.
Habitat
Scrub and grasslands with trees, copses, plantations, gardens, parks, road verges, croplands, orchards, fybos, montane grasslands. Most common in highland areas.
Behaviour
Occurs singly, in pairs, or in flocks of up to 500.
Diet
Forages for seeds on ground, and in scrub, weeds, and trees.
Breeding
They build a compact cup nest, commonly in a shrub.
References
Clements, J. F., T. S. Schulenberg, M. J. Iliff, D. Roberson, T. A. Fredericks, B. L. Sullivan, and C. L. Wood. 2017. The eBird/Clements checklist of birds of the world: v2017, with updates to August 2017. Downloaded from http://www.birds.cornell.edu/clementschecklist/download/
Fry H, Keith S,Woodcook M & Willis I. 2004. Birds of Africa Vol VII: Sparrows to Buntings. Princeton University Press. ISBN 0713665319
Hockey, PAR, WRJ Dean, and PG Ryan, eds. 2005. Roberts' Birds of Southern Africa. 7th ed. Cape Town: John Voelcker Bird Book Fund. ISBN 978-0620340533
Sinclair, I and P Ryan. 2003. Birds of Africa South of the Sahara. Princeton: Princeton Univ. Press. ISBN 978-0691118154
AvianWeb
Handbook of the Birds of the World Alive (retrieved July 2015)
Recommended Citation
External Links