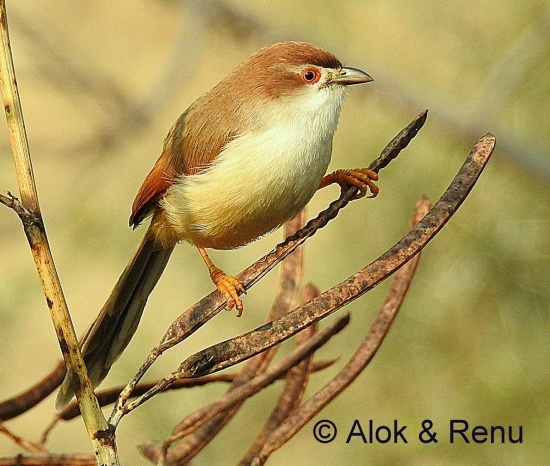 Chrysomma sinense
Identification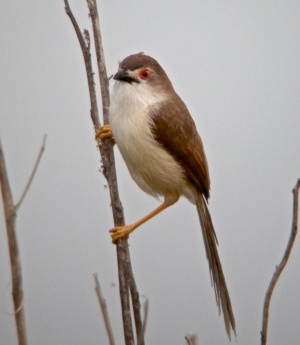 18 - 23cm (7-9 in). A brown, long-tailed babbler.
Short stout black bill
Orange-yellow eye with broad orange eye-ring
White lores , eyebrow, throat and breast
Long, rufous tail
Brown above, creamy below
Juveniles are much paler and more rufous above, have a browner bill and darker eyes.
Similar species
Could be confused with Jerdon's Babbler, Slender-billed Babbler or Jungle Prinia.
Distribution
South Asia. Found on the Indian Subcontinent (Pakistan, India, Nepal, Sri Lanka, Bangladesh) and east over Burma to Thailand, Laos, Vietnam and southern China.
Common in parts of its range.
Taxonomy
Subspecies
Four subspecies recognized[1]:
Habitat
Open grass and scrubland, secondary growth, thorn-jungle, tamarisks, edges of cultivation, reedbeds, fernlands. Usually in the lowlands up to 1500m.
Behaviour
Clings to twigs and reed stems sideways or upside-down like a tit. Seldom on ground. Seen in pairs or outside the breeding season in small groups, often associated with Prinias.
Diet
Feeds on caterpillars, grasshoppers and other insects. Takes also spiders, berries and nectar.
Breeding
Breeding season from March to November in most of its range. The nest is a small, cone-shaped cup made of coarse grass, fibrous bark strips, dry plant fibres and bamboo leaves. It's suspended between upright stems of reeds, grasses, sugar cane or monsoon plants or wedged in a small tree, shrub or bush. Lays 3 - 5 eggs.
Movements
Resident species.
Vocalisation
Listen in an external program Listen in an external program
Recording by Alok Tewari
Keoladeo National Park, India, June-2017
One individual giving three types of calls while moving through mid-sized bushes, just before Sunset.
References
Clements, J. F., T. S. Schulenberg, M. J. Iliff, D. Roberson, T. A. Fredericks, B. L. Sullivan, and C. L. Wood. 2018. The eBird/Clements checklist of birds of the world: v2018. Downloaded from http://www.birds.cornell.edu/clementschecklist/download/
Del Hoyo, J, A Elliott, and D Christie, eds. 2007. Handbook of the Birds of the World. Volume 12: Picathartes to Tits and Chickadees. Barcelona: Lynx Edicions. ISBN 978-8496553422
Rasmussen, PC and JC Anderton. 2005. Birds of South Asia: The Ripley Guide. Barcelona: Lynx Edicions. ISBN 978-8487334672
Recommended Citation
External Links