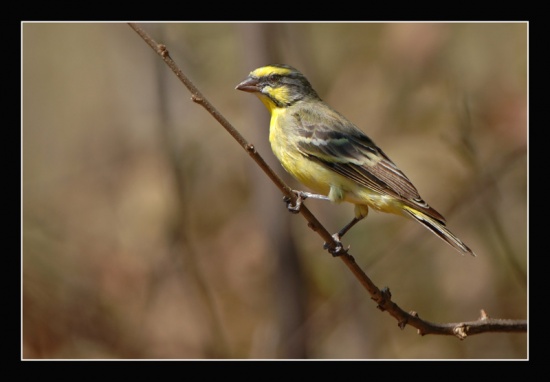 Crithagra mozambica
Serinus mozambicus
Identification
11–13 cm (4¼-5 in)
Green back
Broad supercilium
Yellow head, underparts and rump
Grey crown and nape
Black malar stripe
Brown wings and short tail

Female: similar, though has duller underparts and less marked head pattern
Juveniles: greyer than the female, especially on the head.
Distribution
Sub-Saharan Africa:
Western Africa: Mauritania, Senegal, The Gambia, Guinea-Bissau, Mali, Sierra Leone, Liberia, Ivory Coast, Burkina Faso, Ghana, Togo, Benin, Nigeria, Niger, Chad, Cameroon, Central African Republic, Equatorial Guinea, Gabon, Democratic Republic of Congo, Angola
Eastern Africa: Sudan, South Sudan, Eritrea, Ethiopia, Kenya, Uganda, Rwanda, Burundi, Tanzania, Zambia, Mozambique, Malawi
Southern Africa: Namibia, Botswana, Zimbabwe, South Africa, KwaZulu-Natal, Swaziland.
Introduced to many countries including the Hawaiian Islands, where it is common and widespread.
Taxonomy
Formerly placed in genus Serinus.
Subspecies
There are 10 subspecies[1]:
C. m. punctigula: Cameroon (north to Toukte, Grand Capitaine and Koum)
C. m. tando: Gabon to northern Angola and south-western Democratic Republic of the Congo; introduced São Tomé
C. m. vansoni: Extreme south-eastern Angola and adjacent Namibia to northern Botswana, south-western Zambia
C. m. barbata: Southern Chad, Central African Republic, western Sudan, western and southern South Sudan, eastern Democratic Republic of the Congo, Uganda, southwestern Kenya, and central Tanzania
C. m. samaliyae: South-eastern Democratic Republic of the Congo to south-western Tanzania and adjacent Zambia
C. m. grotei: Southeastern Sudan (east of the Nile), eastern South Sudan, and western and southwestern Ethiopia
C. m. mozambica: coastal Kenya and Mafia Island (Tanzania) south to Zimbabwe, Mozambique, eastern and south-eastern Botswana, and north-eastern South Africa (North West and Limpopo to Free State)
C. m. granti: eastern South Africa (Mpumalanga and KwaZulu-Natal south to Eastern Cape), eastern Swaziland, and southern Mozambique
Habitat
Lowland open woodland, bush, scrub, savanna, agricultural land, gardens.
Behaviour
Breeding
They build a compact nest in trees; the clutch consists of 3–4 eggs.
Diet
Their diet consists mostly of grass and weed seeds; other plant material such as buds, flowers and leaves. They also eat insects.
Vocalisation
Song, often given in short bursts, is a lively series of sweet, musical phrases similar to Common Canary but weaker and with a more ringing quality. Call is a low double note.
Movements
Resident and partially nomadic. In non-breeding season large flocks wander in search of food.
References
Clements, J. F., T. S. Schulenberg, M. J. Iliff, S. M. Billerman, T. A. Fredericks, B. L. Sullivan, and C. L. Wood. 2019. The eBird/Clements Checklist of Birds of the World: v2019. Downloaded from http://www.birds.cornell.edu/clementschecklist/download/
Clement, P. (2020). Yellow-fronted Canary (Crithagra mozambica). In: del Hoyo, J., Elliott, A., Sargatal, J., Christie, D.A. & de Juana, E. (eds.). Handbook of the Birds of the World Alive. Lynx Edicions, Barcelona. (retrieved from https://www.hbw.com/node/61308 on 8 February 2020).
Clement, P., A. Harris, and J. Davis. (1993). Finches and Sparrows: An Identification Guide. Princeton Univ. Press, Princeton, N. J.
Pratt, H.D., Bruner, P., and Berrett, D.G. (1987) A Field Guide to the Birds of Hawaii and the Tropical Pacific. Princeton University Press.
Pyle, R.L., and P. Pyle. 2017. The Birds of the Hawaiian Islands: Occurrence, History, Distribution, and Status. B.P. Bishop Museum, Honolulu, HI, U.S.A. Version 2 (1 January 2017) http://hbs.bishopmuseum.org/birds/rlp-monograph/
Zuccon, D., Prys-Jones, R., Rasmussen, P., Ericson, P.G.P. (2012). The phylogenetic relationships and generic limits of finches (Fringillidae). Molecular Phylogenetics and Evolution. 62 (2): 581-596.
Wikipedia contributors. (2019, December 28). Yellow-fronted canary. In Wikipedia, The Free Encyclopedia. Retrieved 09:16, February 10, 2020, from https://en.wikipedia.org/w/index.php?title=Yellow-fronted_canary&oldid=932753850
BirdForum Member observations
Recommended Citation
External Links