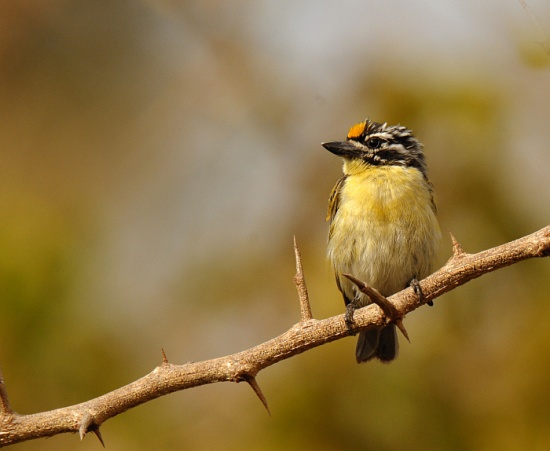 Pogoniulus chrysoconus
Identification
10·5–12 cm (4-4¾) This bizarre wee bird is essentially a dwarf Barbet.
It is a small dumpy short-tailed heavy-billed bird with a yellow belly and black-and-white facial striping (the yellow body colouration appears "washed out" in bright sunlight).
Distribution
Sub-Saharan Africa: From the Sahel to northern South Africa and Swaziland.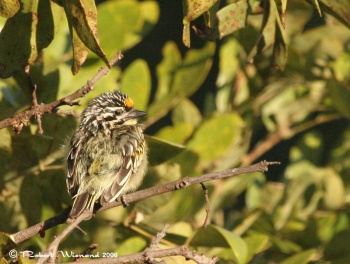 Taxonomy
Subspecies
There are three subspecies:[1]
Highlands of central and southern Ethiopia
Habitat
Woodland and savanna.
Behaviour
Diet
Eats mainly fruit, especially those of mistletoes and figs; also insects.
Vocalisation
Similar to Red-fronted Tinkerbird. Its continuous repetitive "tink...tink...tink...tink" is a common sound of dry woodland savannah but the bird itself is difficult to locate as its voice has ventriloquist-like properties.
References
Clements, J. F., T. S. Schulenberg, M. J. Iliff, D. Roberson, T. A. Fredericks, B. L. Sullivan, and C. L. Wood. 2015. The eBird/Clements checklist of birds of the world: v2015, with updates to August 2015. Downloaded from http://www.birds.cornell.edu/clementschecklist/download/
Hockey, PAR, WRJ Dean, and PG Ryan, eds. 2005. Roberts' Birds of Southern Africa. 7th ed. Cape Town: John Voelcker Bird Book Fund. ISBN 978-0620340533
Sinclair, I and P Ryan. 2003. Birds of Africa South of the Sahara. Princeton: Princeton Univ. Press. ISBN 978-0691118154
Handbook of the Birds of the World Alive (retrieved November 2015)
Recommended Citation
External Links