Alternative name: Yellow-necked Spurfowl
Pternistis leucoscepus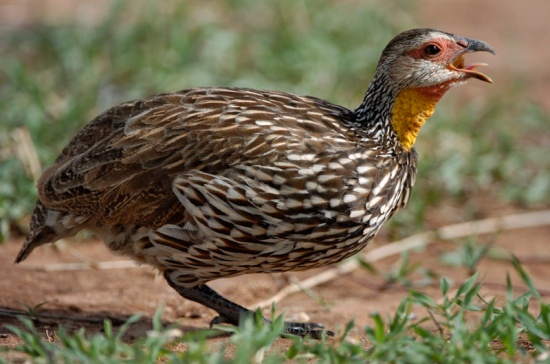 Identification
33–36 cm (13-14¼ in)

Orange-red bare eye-skin
Bare yellow throat patch
Brown upperparts and tail streaked white
Brown underparts with heavy white streaking
Brownish-black legs

Males larger and have two spurs
Similar Species
The only francolin with bare yellow throat skin.
Distribution
Eastern Africa: southeaster South Sudan, Eritrea, Ethiopia, Djibouti, Somalia, Kenya, northeastern Uganda and north central Tanzania.
Taxonomy
This is a monotypic species[1].
Formerly placed in genus Francolinus.
Habitat
A variety of natural and man-made habitats including grassland, semi-arid scrubby savanna and bushland.
Behaviour
Terrestrial.
Diet
Their diet consists of sedge tubers, seeds and insects.
References
Clements, J. F., T. S. Schulenberg, M. J. Iliff, D. Roberson, T. A. Fredericks, B. L. Sullivan, and C. L. Wood. 2015. The eBird/Clements checklist of birds of the world: v2015, with updates to August 2015. Downloaded from http://www.birds.cornell.edu/clementschecklist/download/
Avibase
Handbook of the Birds of the World Alive (retrieved January 2016)
Vulkaner.no
Recommended Citation
External Links