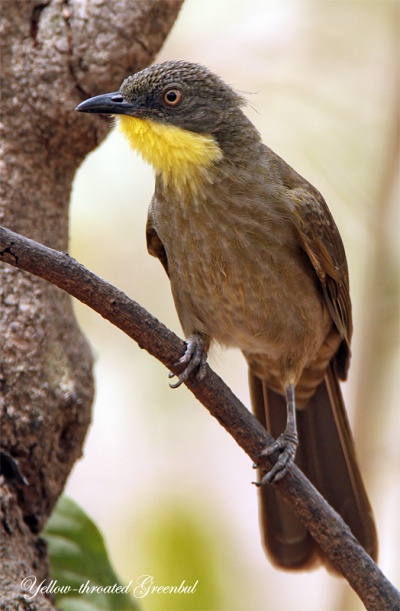 Disambiguation: The name Yellow-throated Greenbul is sometimes used for Yellow-throated Mountain Greenbul Arizelocichla chlorigula
Alternative name: Yellow-throated Leaflove
Atimastillas flavicollis
Identification
22.5cm (8¾ in). A large, noisy non-forest bulbul.
Bright yellow throat contrasting with dark-olive brown head and olive-grey underparts
Dark olive-brown upperparts and tail
Females are smaller than males.
Juveniles are darker overall and have a whitish throat.
Distribution
Found in Western Africa, Central Africa and eastern parts of Western Africa.
Locally common in parts of its range.
Taxonomy
Subspecies
Three subspecies recognized[1]:
Formerly placed in genus Chlorocichla.
Habitat
Open woodland, gallery forest, orchard-bush, thickets, riparian bushes and scrub.
Lowlands and medium elevations. Up to 1800m in Cameroon, up to 2300m in East Africa.
Behaviour
Diet
Feeds on fruit. Takes also some insects.
Usually seen in small family parties, sometimes in pairs, rarely alone. A rather shy species.
Breeding
Breeding season differs through range. Probably a co-operative breeder. The nest is a cup of small twigs, rootlets, leaf stems and dry leaves. It's placed 2 to 10m above the ground in a tree fork concealed by dense foliage. Lays 2 eggs. parasitised by Red-chested Cuckoo.
Vocalisation
Call: single note call, rather yappy, repeated every few seconds.
Movements
A sedentary species.
References
Clements, J. F., T. S. Schulenberg, M. J. Iliff, D. Roberson, T. A. Fredericks, B. L. Sullivan, and C. L. Wood. 2017. The eBird/Clements checklist of birds of the world: v2017, with updates to August 2017. Downloaded from http://www.birds.cornell.edu/clementschecklist/download/
Del Hoyo, J, A Elliot, and D Christie, eds. 2005. Handbook of the Birds of the World. Volume 10: Cuckoo-Shrikes to Thrushes. Barcelona: Lynx Edicions. ISBN 978-8487334726
BF Member observations
Recommended Citation
External Links