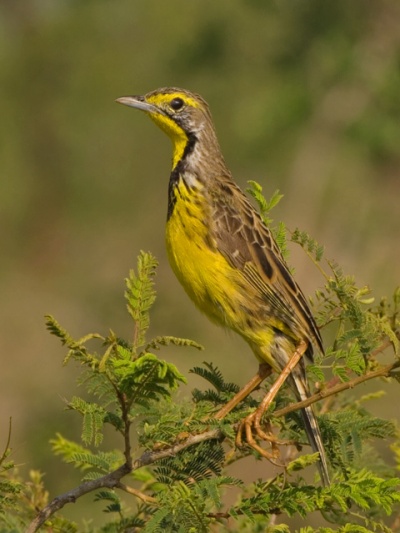 Macronyx croceus
Identification
20–22 cm (7¾-8¾ in)
Yellow throat surrounded by black, yellow underside and supercilium, upperside mostly brownish with darker feather centers and yellow edgings on primaries producing a wing panel.
Similar species
Golden Pipit has black breast band but not black around rest of throat. It is also brighter and more yellow, especially on wings.
Distribution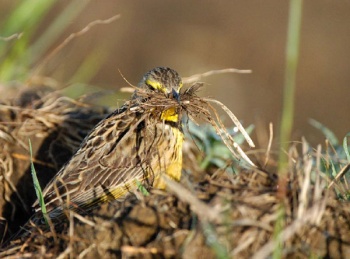 Sub-Saharan Africa
Western Africa: Senegambia, Senegal, The Gambia, Guinea-Bissau, Mali, Sierra Leone, Liberia, Ivory Coast, Burkina Faso, Ghana, Togo, Nigeria, Niger, Chad, Cameroon, Central African Republic, Equatorial Guinea, Gabon, Democratic Republic of Congo, Angola, Zaire
Eastern Africa: Sudan, South Sudan, Kenya, Uganda, Rwanda, Burundi, Tanzania, Zambia, Mozambique, Malawi
Southern Africa: Zimbabwe, South Africa, KwaZulu-Natal, Swaziland
Taxonomy
This is a monotypic species[1].
Habitat
Widespread in grasslands, dry savanna, seasonally wet or flooded lowland grassland, and sandy shores.
Behaviour
Diet
They eat invertebrates and other insects, particularly grasshoppers and beetles.
Vocalisation
Song usually given from top of bush or in flight.
Song: a rapi"tir-tri-tri-tri delivered from a perch or in flight.
References
Clements, J. F., T. S. Schulenberg, M. J. Iliff, D. Roberson, T. A. Fredericks, B. L. Sullivan, and C. L. Wood. 2017. The eBird/Clements checklist of birds of the world: v2017, with updates to August 2017. Downloaded from http://www.birds.cornell.edu/clementschecklist/download/
Avibase
Handbook of the Birds of the World Alive (retrieved Sept 2017)
Recommended Citation
External Links