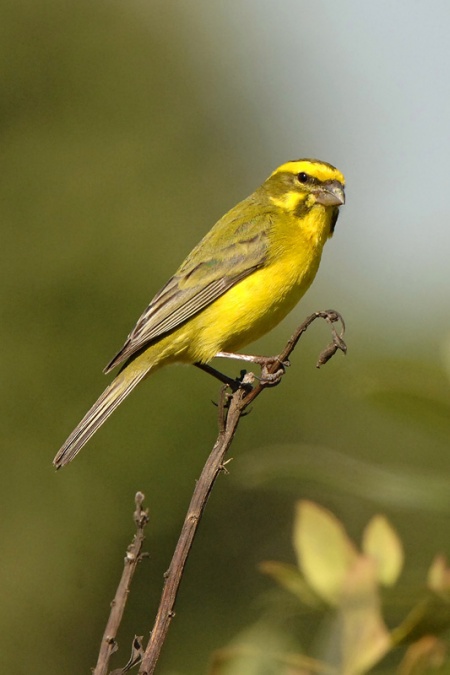 Alternative names: Shell Canary, Yellow Sysie
Crithagra flaviventris
Serinus flaviventris
Identification
Length 13-14 cm, 13-21 g
Adult male (S. f. flaviventris): Forehead, eyebrows and cheeks yellow; crown, nape and mantle olive green with brown flecks. The eye-stripes, ear-coverts and sides of the neck are olive-khaki, and the malar stripes are olive-green. The back is olive-khaki and the rump and upper tail coverts greenish yellow. The tail and wings are dusky brown, feathers edged green or yellow. The underparts are a rich yellow; greenish yellow on the breast and greyish-yellow on the flanks. Bill horn with a pinkish base; eyes, legs and feet brown.
Adult female: Duller than the male; crown, nape, mantle and back are pale greyish olive, streaked brown; eye-stripes, ear-coverts and malar stripes greyish olive; eye-brows and lower cheeks buffy white. Rump and upper tail coverts yellowish olive. Throat, breast and flanks buffy white with brown streaks.
Similar species
The Yellow-fronted Canary has a more brightly contrasting yellow rump, duller yellow underparts, a white-tipped tail, and is smaller.
Brimstone Canary is larger with a heavier bill and green (not yellow) forehead; more green overall (but notice geographic variation in Yellow Canary with birds from the Cape area being greener). Brimstone Canary has a much shorter supercilium that quickly narrows behind the eye.
White-throated Canary is similar to the female Yellow Canary, but larger, has a heavier bill, is less streaked, and the yellow-green rump contrasts more with the greyish-brown back and mantle.
Distribution
Southern Africa: Lesotho, South Africa, Botswana, Namibia and south-western Angola.
Introduced to the island of St. Helena and Ascension.
Taxonomy
Subspecies
Highveld (high-altitude plateau) of east-central South Africa and lowlands of western Lesotho
Male has lemon-chrome rump and underparts and greenish-tellow crown.
Lesotho highlands
Larger than nominate; broader dark centres to crown and back feathers. Female: The sides of the face are darker grey than the nominate, and the throat and breast more heavily striped.
Habitat
Shrublands, semi-arid savanna, fynbos (a distinctive natural shrubland or heathland, occurring in the Western Cape of South Africa). Also thickets of alien Acacia, gardens, dune vegetation, coastal wetlands and beaches with seaweed.
Behaviour
Conspicuous; in flocks when not breeding, sometimes with other granivores.
Diet
Forages on the ground and in forbs (an area of broad-leaved herbs, other than grass) and shrubs, eating flowers, seeds, nectar, insects and small crustaceans.
Breeding
Monogamous and probably territorial. The nest is built by the female in as little as three days using a variety of plant material. Two to five eggs are laid and incubated for 12-16 days by the female.
Vocalisation
Sings from the top of a bush or a tree, also does a display-flight. The song is a fairly long and varied series of warbled phrases and rapid muscial twitters, including "chissick" and "cheree" notes in random manner. Calls "peeoo", "peetyo" and "peelee", also an upslurred "peclyip" and a distinctive "chirrup" or "tirriyip"
References
Clements, J. F., T. S. Schulenberg, M. J. Iliff, D. Roberson, T. A. Fredericks, B. L. Sullivan, and C. L. Wood. 2017. The eBird/Clements checklist of birds of the world: v2017, with updates to August 2017. Downloaded from http://www.birds.cornell.edu/clementschecklist/download/
Hockey, PAR, WRJ Dean, and PG Ryan, eds. 2005. Roberts' Birds of Southern Africa. 7th ed. Cape Town: John Voelcker Bird Book Fund. ISBN 978-0620340533
Del Hoyo, J, A Elliott, and D Christie, eds. 2010. Handbook of the Birds of the World. Volume 15: Weavers to New World Warblers. Barcelona: Lynx Edicions. ISBN 978-8496553682
Recommended Citation
External Links