Buteo albonotatus
Identification
46–56 cm (18-22 in)
Blackish overall plumage
Black, flight feathers barred with lighter grey ending in a black band
Tail has three or four bands, white underneath and light grey above
Yellow cere and legs.

Immatures: similar apart from small white spots on the breast and tail, and narrow grey and black bands with a broad dark tip.

Similar Species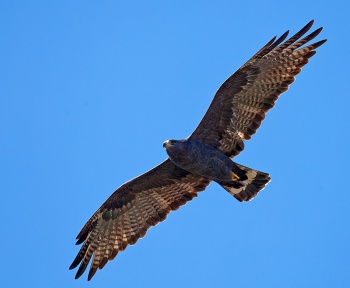 Surprisingly similar to Turkey Vulture, best separated by the dark band on the trailing edge of the wing, and if seen well, by the bands on the tail.
Distribution
California, Arizona, New Mexico, and western Texas to southern Brazil, Paraguay, Bolivia, and northern Argentina. Non-migratory in most of its range, usually considered migratory in northern Mexico and the US.
Taxonomy
This is a monotypic species[1].
Habitat
Widely varying habitats: Wet and dry forest from pine to deciduous and evergreen rainforest, to open semi-desert to marsh, mountains to lowland plains. Seems to prefer habitats with water nearby. Reportedly often in areas where Common Black-Hawk also occurs, but then found at higher elevations.
Behaviour
Flight
Usually seen singly mostly flying low and with wings raised into a dihedral.
Diet
Their diet consists of small mammals, birds and lizards; it's possible they also eat some frogs and fish.
Breeding
The nest is constructed from sticks built at the top of a tree or maybe on a cliff. The clutch contains 2-3 white eggs, usually with brown marks.
References
Clements, J. F., T. S. Schulenberg, M. J. Iliff, D. Roberson, T. A. Fredericks, B. L. Sullivan, and C. L. Wood. 2018. The eBird/Clements checklist of birds of the world: v2018. Downloaded from http://www.birds.cornell.edu/clementschecklist/download/
Handbook of the Birds of the World Alive (retrieved March 2019)
Recommended Citation
External Links