(Attempt to disguise some copied text. Taxonomy. References)

Line 1:
Line 1:
−

[[Image:19005White-naped Tern.jpg|thumb|500px|right|Photo by {{user|Karim+Madoya|Karim Madoya}} <br />Lokawi Seashore, Kota Kinabalu]]

+

[[Image:19005White-naped Tern.jpg|thumb|500px|right|Photo by {{user|Karim+Madoya|Karim Madoya}} <br />Lokawi Seashore, Kota Kinabalu]]

 

;[[:Category:Sterna|Sterna]] sumatrana

 

;[[:Category:Sterna|Sterna]] sumatrana

 

==Identification==

 

==Identification==

−

30cm.  White face and breast, greyish-white back and wings, black nape band, black spot in front of eye,  black bill with yellow tip, black legs and feet, brown iris, long forked tail.<br />

+

30cm

−

'''Young birds''' - brown mottling on crown, blackish mottling on nape. <br />

+

White face and breast

−

'''Juvenile''' - side of head and nape greyish brown, brownish upperparts scalloped buff and grey, whitish rump,  rounded unforked tail, yellow bill and feet.  

+

-white back and wings

 
+

nape band

 
+

spot in front of eye

 
+

bill with yellow tip

 
+

legs and feet

 
+

iris

 
+

forked tail

 
+

.<br />

 
+

'''Young birds'''brown crown, blackish mottling on nape. <br />

 
+

'''Juvenile'''of head greyish brown, brownish upperparts buff and grey , whitish rump,  rounded tail, yellow bill and feet.  

 

==Distribution==

 

==Distribution==

−

[[Image:BNT MG 3116.jpg|thumb|350px|right|Photo by {{user|M Kwan|M Kwan }}<br />Eastern Waters [[Hong Kong]]]]

+

Pacific and Indian Oceans. Breeds on Aldabra Atoll, [[Seychelles]], [[Fiji]] and [[Samoa]].  

−

Pacific and Indian Oceans. It is rarely found inland.  Breeds on [[Aldabra Atoll]], [[Seychelles]],

 
−

[[Fiji]] and [[Samoa]].  

 
 

==Taxonomy==

 

==Taxonomy==

 
+
 

There are 2 subspecies:

 

There are 2 subspecies:

−

* ''S. s. sumatrana''

+

*''S. s. sumatrana''

−

* ''S. s. mathewsi''

+
 
+

*''S. s. mathewsi''

 
+
 

==Habitat==

 

==Habitat==

−

Open seas.

+

.

 

==Behaviour==

 

==Behaviour==

 

====Breeding====

 

====Breeding====

−

The nest is typically a simple scrape in the sand or gravel; 1-2 eggs are laid.  

+

The nest is a scrape in the sand or gravel 1 2 eggs.  

 

====Vocalisation====

 

====Vocalisation====

−

Voice: sharp ''tsii-chee-chi-chip'' or in alarm ''chit-chit-chitrer''.  

+

Voice: sharp ''tsii-chee-chi-chip''

 
+

''chit-chit-chitrer''

 
+
 
+

.

 
+
 
+
 

==External Links==

 

==External Links==

 

{{GSearch|Sterna+sumatrana}}  

 

{{GSearch|Sterna+sumatrana}}  

 

[[Category:Birds]][[Category:Sterna]]

 

[[Category:Birds]][[Category:Sterna]]
---
Revision as of 21:33, 9 April 2010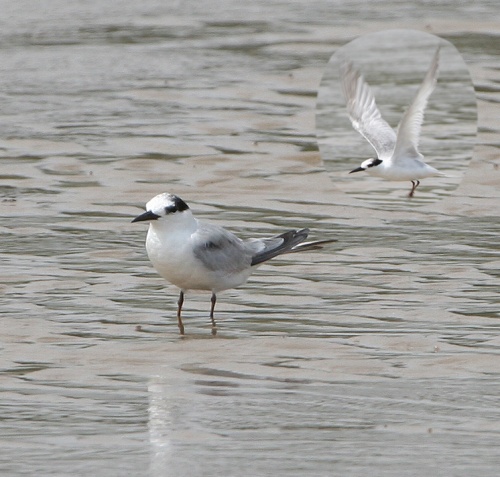 Sterna sumatrana
Identification
30cm

White face and breast
Greyish-white back and wings
Black nape band
Black spot in front of eye
Black bill with yellow tip
Black legs and feet
Brown iris
Long forked tail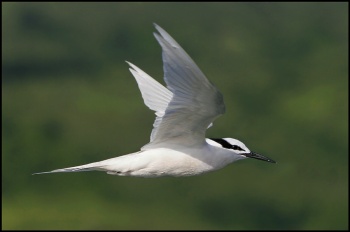 Young birds: mottled brown crown, blackish mottling on nape.
Juvenile: nape and sides of head greyish brown, brownish upperparts with buff and grey scallops, whitish rump, rounded tail, yellow bill and feet.
Distribution
Pacific and Indian Oceans. Breeds on Aldabra Atoll, Seychelles, Fiji and Samoa.
Taxonomy
Subspecies[1]
There are 2 subspecies:
Habitat
Sea coasts, mudflats and harbours. It is rarely found inland.
Behaviour
Breeding
The nest is a ground scrape in the sand or gravel on rocky islets. The clutch consists of 1 or 2 eggs.
Vocalisation
Voice: sharp tsii-chee-chi-chip
Alarm call: chit-chit-chitrer
References
Clements, JF. 2009. The Clements Checklist of Birds of the World. 6th ed., with updates to December 2009. Ithaca: Cornell Univ. Press. ISBN 978-0801445019.
Forestry.sarawak.gov
Andaman Birdwatching
Recommended Citation
External Links