Line 8:
Line 8:
 

Monotypic.<sup>[[#References|1]]</sup>

 

Monotypic.<sup>[[#References|1]]</sup>

 
 
−

Considered a race of the [[Red-headed Parrotfinch]] ''E. cyaneovirens'' by some authorities .<sup>[[#References|2]],[[#References|3]]</sup>

+

Considered a race of the [[Red-headed Parrotfinch]] ''E. cyaneovirens'' by some authorities .<sup>[[#References|2]]</sup>

 
 
 

There is much confusion with identifying these species and their races, as the young take up to 20 months to reach full adult plumage with several intermediate colour stages.

 

There is much confusion with identifying these species and their races, as the young take up to 20 months to reach full adult plumage with several intermediate colour stages.

Line 19:
Line 19:
 

# Clements JF. 2007. ''The Clements Checklist of Birds of the World''. 6th ed., with updates to October 2007. Cornell University Press. ISBN 9780801445019  

 

# Clements JF. 2007. ''The Clements Checklist of Birds of the World''. 6th ed., with updates to October 2007. Cornell University Press. ISBN 9780801445019  

 

# Dickinson EC (ed.) 2003. ''The Howard & Moore Complete Checklist of the Birds of the World''. 3rd ed. Princeton Univ. Press, Princeton, NJ, USA. ISBN 9780691117010

 

# Dickinson EC (ed.) 2003. ''The Howard & Moore Complete Checklist of the Birds of the World''. 3rd ed. Princeton Univ. Press, Princeton, NJ, USA. ISBN 9780691117010

−

# Gill F & Wright M. 2008. ''Birds of the World: Recommended English Names''. Princeton University Press, Princeton NJ, USA. 2006. ISBN 9780691128276  Update (2008) downloaded from [http://worldbirdnames.org/names.html http://worldbirdnames.org/names.html].

 
 

==External Links==

 

==External Links==

 

{{GSearch|Erythrura+regia}}  

 

{{GSearch|Erythrura+regia}}  

 
 
 

[[Category:Birds]] [[Category:Erythrura]]

 

[[Category:Birds]] [[Category:Erythrura]]
---
Revision as of 13:15, 15 November 2008
Erythrura regia
Identification
11 cm. Male has a bright red head and tail, blue breast and turquoise-green upperparts, while females are greener in colour. Young Royal Parrotfinches are duller with dull blue head.
Distribution
Taxonomy
Monotypic.1
Considered a race of the Red-headed Parrotfinch E. cyaneovirens by some authorities .2
There is much confusion with identifying these species and their races, as the young take up to 20 months to reach full adult plumage with several intermediate colour stages.
Habitat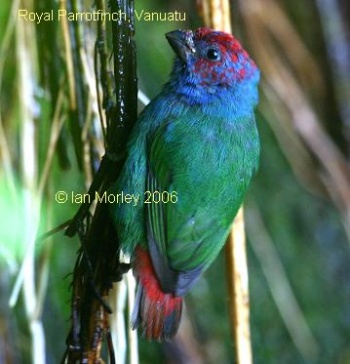 Primary and secondary rainforest.
Behaviour
Staple diet consists of the seeds of small figs.
References
Clements JF. 2007. The Clements Checklist of Birds of the World. 6th ed., with updates to October 2007. Cornell University Press. ISBN 9780801445019
Dickinson EC (ed.) 2003. The Howard & Moore Complete Checklist of the Birds of the World. 3rd ed. Princeton Univ. Press, Princeton, NJ, USA. ISBN 9780691117010
External Links