| | |
| --- | --- |
| Looking for something? Search for it here. | |
Recently Updated Pages
<news limit="14" nominor>
* [[{{{pagename}}}]]
[[User:{{{user}}}|{{{user}}}]] 

{{{timeanddate}}}


</news>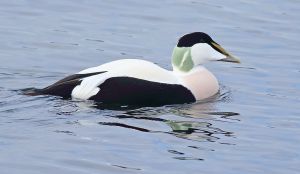 Distribution
The commonest and most widespread of the eiders, breeding across much of the north and extending further south than any other.
Habitat
Shallow inshore seas breeding on small islands or undisturbed mainland beaches, on passage and in winter also on estuaries, rarely on inland waters.

Getting Started
If you're looking for a particular bird, place, or anything else related to the birding world, try searching for it using the search box at the top, or to the left, of this page. You can also get an overview of all the birds, bird song, locations or other wildlife by using the tabs above.
Statistics
Articles: 12,673
Files: 22,879