m

(OBI link deleted)

 

(3 intermediate revisions by one other user not shown)
Line 1:
Line 1:
 
+
 

;[[:Category:Treron|Treron]] formosae

 

;[[:Category:Treron|Treron]] formosae

−

[[Image:Treronformosae.jpg|thumb|550px|right|Photo by lostinjapan<br />Photo taken: Kurojima, Ryukyu islands, [[Japan]].]]

+

Ryukyu

−

 

 
 

==Identification==

 

==Identification==

 

35cm.  Dark green back, inner secondaries and tail, light green throat and breast, pale yellow vent with dark green streaks, light green hind neck, grey mantle, purple-brown shoulder patch, deep orange crown, red legs and feet, bill has light blue base, red brown iris.  Female lacks shoulder patch and crown.

 

35cm.  Dark green back, inner secondaries and tail, light green throat and breast, pale yellow vent with dark green streaks, light green hind neck, grey mantle, purple-brown shoulder patch, deep orange crown, red legs and feet, bill has light blue base, red brown iris.  Female lacks shoulder patch and crown.

 

==Distribution==

 

==Distribution==

−

[[Ryukyu Islands]], [[Philippines]] and [[Taiwan]].

+

[[Ryukyu Islands]] , [[Philippines]] and [[Taiwan]].

 

==Taxonomy==

 

==Taxonomy==

 
+
 
+
 
+
 
+
 
+
 
+
 

==Habitat==

 

==Habitat==

 

Lowland evergreen forests.

 

Lowland evergreen forests.

Line 15:
Line 21:
 

==External Links==

 

==External Links==

 

{{GSearch|Treron+formosae}}  

 

{{GSearch|Treron+formosae}}  

−

*[http://www.orientalbirdimages.org/birdimages.php?action=birdspecies&Bird_ID=729&Bird_Image_ID=104&Bird_Family_ID=91 View more images of this species on Orientalbirdimages]

+

 

−

[[Category:Birds]][[category:incomplete]] [[Category:Treron]]

+

[[Category:Birds]] [[Category:Treron]]
---
Latest revision as of 06:57, 7 May 2020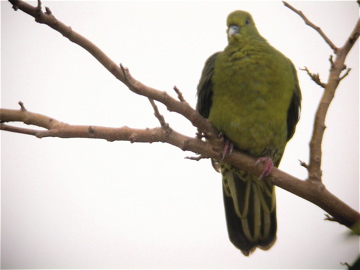 Treron formosae
Includes Ryukyu Green-Pigeon
Identification
35cm. Dark green back, inner secondaries and tail, light green throat and breast, pale yellow vent with dark green streaks, light green hind neck, grey mantle, purple-brown shoulder patch, deep orange crown, red legs and feet, bill has light blue base, red brown iris. Female lacks shoulder patch and crown.
Distribution
Ryukyu Islands (Japan), Philippines and Taiwan.
Taxonomy
Four subspecies usually recognized:
T. f. formosae in Taiwan
T. f. filipinus in the Philippines
T. f. permagnus on the northern Ryukyu Islands
T. f. medioximus on the southern Ryukyu Islands
Mcgregorii is considered invalid by most authorities. In recent literatur the name riukiuensis is used as well. The two forms from the Ryukyu Islands are sometimes split as full species.
Habitat
Lowland evergreen forests.
Behaviour
The diet includes fruits.
2 eggs are laid. The nest is a frail platform made from sticks.
External Links