Today was a nightmare which went horribly off the rails. I got the first train I could, and got as quickly as I could to Santon Downham, stopped by the bridge, and immediately heard the lesser spotted woodpecker- it was hiding in the trees southeast of the bridge. I didn't see it despite trying, and quickly made my way down to the classic location. As I approached, I heard another lesser spotted woodpecker, along the river, very far from the bridge.
Here, I made my first massive mistake. Instead of stopping and searching for it and likely seeing it, I decided to press on for no particular reason. I saw some people looking at a tree, and approached to find Marcus Nash and some other people who said the woodpecker had just left into Suffolk. I had missed it by a matter of minutes! There are 3 lesser spotted woodpeckers along this river: the one I heard about 50-100m away from the classic position, the female Marcus saw, and the woodpecker I heard by the bridge. One of the ones I heard, according to a person I spoke to, was most certainly a male. As a result, it was a bit embarassing that I spent five hours standing completely still here and staring at the trees, harvesting nothing but the showy big brothers of the lesser spotteds, green woodpeckers, wrens and marsh tits. Still, no photo seems wrong, so here is a lesser spotted woodpecker from 2019: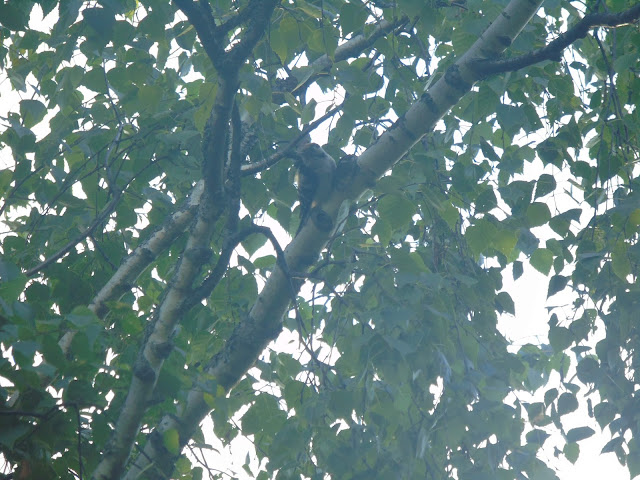 Here, I made a second mistake, even worse than the first. A crowd formed by this location, about 15 people, and I should have realised that such a gathering would deter any shy, quiet bird from arriving. As a result, because of this, I ended up missing the male lesser spotted woodpecker when it was heard calling later on, in the exact place I heard one today. I was just standing and observing- the only time a lot of people moved was when I detected a lesser spotted woodpecker drumming nearby, but we failed to see it.
Eventually I realised it was getting too late, and left, making sure to check everything along the way. This is the third time in a row I have completely failed to see this bird, and this time it was entirely my fault! I will be more intelligent the next time I visit for them.
Tired from standing like that, I cycled all the way to Lynford, and began looking for the bird I wanted to see the most today- firecrest. I approached a stand of larches, and saw a goldcrest flitting about, as well as 2 kinglets at the top. I couldn't see which. Moving around, I noticed another kinglet, and managed to get some photos of it as it sat unusually still for me to see.
It was the firecrest I had come for. It did begin jumping around at this point, but never enough to throw me off balance, and I got a series of nice images of the beautiful little bird as a result.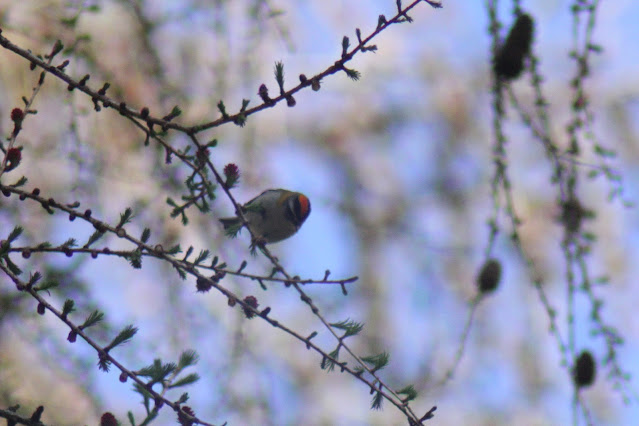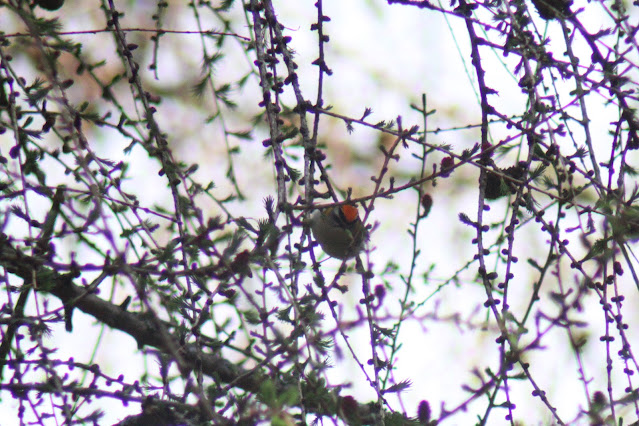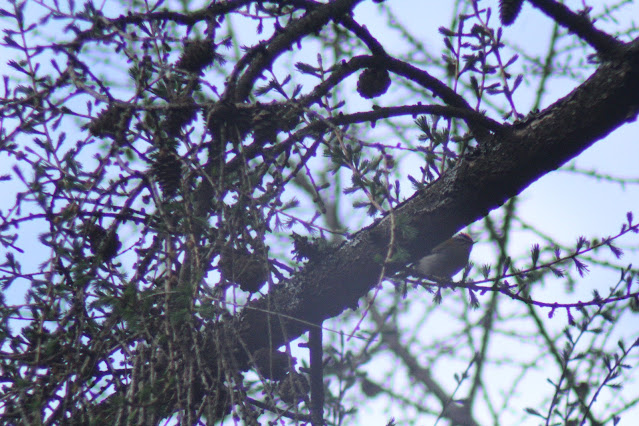 It mostly kept in the shade of a large larch tree, but at one point sat right out in the open, in the sun's rays, and I took my best image of a firecrest today as a result.
I took a walk around the arboretum to see if I could see anything else, but mostly ended up pointing people looking for firecrest to the stand of larches, and failed to see any hawfinch as well. Still, a firecrest is a firecrest. I hope I will finally see the woodpecker in 2024, and the hawfinch in the autumn