Rapid product tracking in a digital assembly department 
and in customer service
Perceptive observers have already discovered the inconspicuous detail that adorns the inside of the new ZEISS Victory SF 32 in addition to the familiar serial number. This "Data Matrix" contains the exact material and serial number of the device in digital form and is a visible sign of the new digitized assembly line used to manufacture the SF 32.

​
In addition, each optical component inside the SF 32 is individually marked, and optical and mechanical measurements are permanently saved for each part.
The component's installation in the end device is also documented, which makes it possible to track the history and assembly of each individual pair of binoculars right down to the subassembly.
Many of the tried-and-tested measuring devices used for this purpose were redesigned, digitally connected, or replaced with newly purchased systems.

​
The assembly, production planning, and development departments use this new data to constantly monitor and improve the complex processes.
This helps us ensure that customers receive products of consistently high quality, while simultaneously improving the efficiency and cost-effectiveness of our assembly operations.
Investing in digitization is one of the ways we are ensuring that we meet the high standards expected of products with the "Made in Germany" label.
This data will be particularly beneficial in customer service and for new digital applications. If a problem occurs while using the device, it will be possible to isolate the likely cause before sending it in.
When the device then arrives at the customer service department's receiving area in Wetzlar, it can be processed more quickly using the Data Matrix code.
We will gradually be adding the new Data Matrix code to other model series as well.
If you want to try it out for yourself, simply scan the code with your smartphone. Depending on the smartphone model, you can do this either directly in the camera app or you'll need a dedicated app for scanning Data Matrix codes, many different versions of which are available in the app stores of the most widely used smartphone operating systems.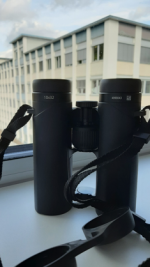 The code complies with the ISO/IEC 16022:2006 standard, consists of 16 x 16 pixels and has a size of 4 x 4 mm.
The encoded information consists of up to 24 characters, comprising a material and serial number.
It is permanently etched into the anodized surface via laser engraving.