A short story about my birding day this past Sunday May 8th here in Costa Rica.
One of my Tico friends is a bird call savant who can hear a call of a new bird and can instantly mimic it so well the bird will almost always respond. A year ago in another forest I witnessed him call in no less than three very shy Barred Forest Falcons at once. This species doesn't like to expose itself but these individuals threw caution to the wind in trying to get a peek at the new two legged intruder.
This past Sunday he, a few other friends and I went looking for three special target birds and suffice to say his talents contributed immeasurably.
These three target species were the,
Rosy thrush Tanager, (Rhodinocichla rosea)
Stripped chested Antpitta, (Hylopezus perspicillatus)
Green Shrike Vireo, (Vireolanius pulchellus)
We'd heard they had been spotted on a large pineapple farm that has a lot of dense undisturbed forest between each field. We needed permission from the owners who insisted a company "minder"or "guide" accompany us. That was fine with us as the minder was an avid birder himself.
Our first stop just inside the property got us the Grey-headed Kite (with a bonus nest) Red-capped Manakins, Black-hooded Antshrikes and Slaty-headed Tody Flycatchers amoungst various parrot/parakeet species as well as a Turquoise Cotinga. Other birds were seen but we weren't focused on a count just the targets.
The next stop on this large property found us less than five minutes and twenty meters into the forest from the road before the Rosy-thrush Tanager showed up to take exception to our presence. Everyone in our gang got excellent photos, video and recordings from this very obliging male.
Next we headed to the patch the Streak-chested Antpita had been reportedly seen before. It was less obliging and didn't show so we decided we'd give the path a rest and drive over to the part of the property that normally produced the Green Shrike Vireo.
Two Vireo's showed up within minutes but while we were waiting the Slate-coloured Seedeaters also made an nice appearance.
After the Vireo's put on a show we went back to look for the Antpita and after over an hours silent wait were finally able to view and hear the bird. We were all barely able to contain our excitement but managed it somehow and spent the next hour watching it appear and disappear under the dark forest floor tangle.
I'll always have a soft spot for that patch of forest because as we were being all silent waiting for the Antpita a noisy Black-bellied Wren which happened to be a lifer for me showed up singing its bell like warble.
Six lifers.
Rosy-thrush Tanager
Streak-chested Antpita
Green-shrike Vireo
Grey-headed Kite
Black-bellied Wren
Slate-coloured Seedeater
It was an immensely satisfying day, bit warm but the location was beautiful. Good friends and the privilege of seeing great birds made it even more special.
I've included some poor quality videos (hope they work) and photos of the six lifers to give the story some visual context.
Rosy-thrush Tanager
View attachment IMG_5214.MOV
Streak-chested Antpita
View attachment IMG_5215.MOV
Slaty-coloured Seedeater
View attachment IMG_5217.MOV
Grey-headed Kite
View attachment IMG_5216.MOV
Green-Shrike-Vireo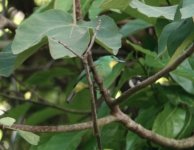 Black-bellied Wren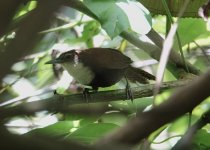 A bit of the farm