It is no secret who's thread inspired this post -
@dorubird
's essay made a lot of sense to me and I could see myself with the exact same set of four, but the way things worked out gave me a different but also satisfying complement of binos.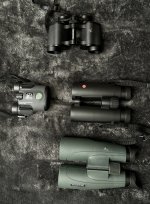 The biggest difference other than size, is that these represent each of the four modern prism topologies.
Porro - The Swarovski Habicht 8x30 W is my current go to. It has the sharpness you want from premium binoculars, but adds to it the perfect transmission character, and an image cleanliness that Porro so effortlessly offers. The eye relief took me some time to familiarise myself and even though I wear spectacles, I find it fun both used with and without. Things like glare and stiff focuser, are only a problem if you make it a problem - at the park today looking near the winter low sun, warm orange flares can be made at specific angles, remind me of photographs taken to deliberately produce lens flare and gives extra character to this otherwise perfectly neutral image. 4mm pupil, made in Austria.
Reverse porro - The Pentax Papilio is possibly the most deserving model of this format, by using the closely set objectives to its advantage, focusing closer than 0.5m when others can manage 1.5m at best. The transmission isn't as high as premium compacts being around 85%, but in summer looking at flowers and insects will not pose a challenge. The Porro cleanliness is also visible when put side by side with a more compact roof. The synchronised ipd adjust does make it easier to use. 3mm pupil, made in China.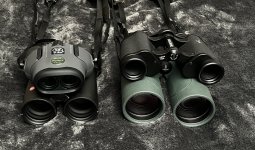 Schmidt Pechan roof - The Leica Noctivid 8x42 is the smallest full feature binocular of the set, and is the one that produces the most beautiful autumn foliage and skin tones. The slight warmth also cuts through haze, adding to the excellent contrast and black point of a well baffled design. This pair gets a good share of use especially for when the arms are strong but the eyes want a rest. The 5mm pupil coupled with long eye relief takes any strain away and puts less pressure on the glasses. Made in Portugal
Abbe Koenig roof - The master of the house, the commander of the ship, the one that does it all and makes no compromises, SLC HD 8x56. This traditional full sized full cream extra organic animal of a binocular, is the one that keeps the rest in line. Too dim? never. Too shakey? never. Sharp? just point at it. No rolling ball, least black out, can be used with whatever fancy glasses and goggles you wish. Thick armour and excellent weight makes it feel strong and tough. It might not be used the most often due to the degree of excess, but the set would not be complete without it! My ultimate big eyes experience. 7mm pupil, made in Austria.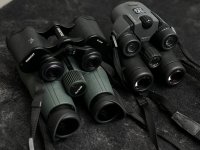 But the set may not stay at 4 forever, as there is no 10x pair which I have decided to buy, when the right specifications appear. It needs to be 10x42 with 70degree+ AFOV, and needs to be Zeiss made in Germany. Within 5 years what do you think? Surely NL will not be taking the spotlight for that long!
As for where are the other binos that I've mentioned previously, they are all in good hands or will be when the time is right. The NL 8x42 with CL 7x21 makes a fantastic two-bino set, exceptional light throughput for their weight, and widest true FOV of their respective classes. The EL 8x32 is amazing as a one-and-done, so it will probably go to a younger person to get the hobby started...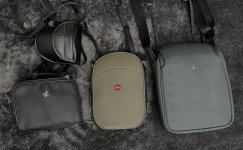 Last edited: