A couple of weeks ago a friend asked me if I fancied getting away to a quiet island for a few days. The answer was of course. yes! As he was part of a crew I used to go climbing / mountaineering with, I was expecting it to be a Scottish or perhaps Welsh island. About a week ago he messaged to say that a long-weekend on Bryher in the Isles of Scilly had been booked. A surprise but as a birder I was beginning to feel a bit ashamed that I had never been to the Scillies - so I was well pleased to get the opportunity.
I won't do my usual style of day by day trip report as much of the time between eating, drinking and sleeping was spent just sitting or mooching around the same places. A bit of logistics below and a list of birds with comments to follow.
So on Friday 21st April I began the 5 hour drive to Penzance with a couple of friends; one a sort of birder and the other not much interested. Following a better journey down than I had feared, we parked up and after a short wait got a shuttle bus to Lands End Airport and then a Skybus Twin Otter for the short hop over to St. Mary's. No time to take in anything of the island as a Tresco Boat Services fast boat was waiting and soon we were at Church Quay on Bryher. We were booked in to the campsite and while we walked over the bags were transferred by tractor. From the friendly girl who met us we found out the local pub (Fraggle Rock) was about to stop serving food so we set off for a meal and drinks before returning to set up the tents - by now very dark!
It rained very heavily in the night but I woke on Saturday to a nice view in the morning and a drizzly day. Not pleasant but not too wet to go for a wander to get an idea of the lie of the land. Found the shop and a nice café (Olivia's Kitchen) so we were sorted. On Sunday the weather was much better (dry & bright) but with a cold northerly wind - another stroll around the island. Monday was again dry, bright and breezy and for a change of scene two of us went over on the only boat of the day (due to the timing of the low tides) for a walk around Tresco for the day.
Tuesday was leaving day so we had a leisurely pack up, leaving the bags for the tractor transfer, breakfast and a walk to the part of the island not yet covered. The ferry back to St. Mary's got us there in plenty of time so we had a quick walk around The Garrison and Hugh Town before boarding Scillonian III for a chilly, windy crossing (sea state moderate to rough). Then a frustrating drive back - I had assumed that an evening journey would be good and indeed the traffic was light but I had forgotten all about night-time road closures for maintenance: the A30 near Bodmin, the M5 south of Bristol and the M4 near Swindon - in each case the diversions were extremely painful and I finally got home in the early hours of Wednesday.
A couple of very peaceful and scenic islands and, whilst the migrants were not dripping from the trees or falling from the sky, some good birds. The weather could have been a bit more friendly but equally it could have been a whole lot worse. The campsite was great, as was the food on the island. I had a good time.
Photos:
1. Skybus Twin Otter;
2. View from tent;
3. Shipman Head;
4. Hell Bay;
5. Campsite;
6. Popplestones & Gweal Hill;
7. Rushy Bay;
8. Sunset from Shipman Head;
9. Bryher & campsite valley from Tresco;
10. Scillonian III.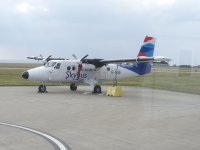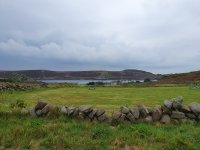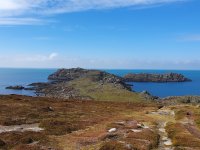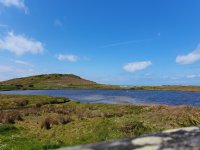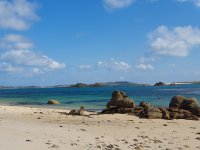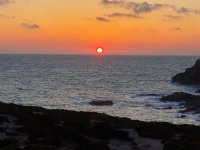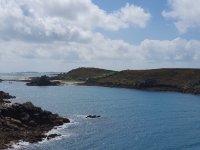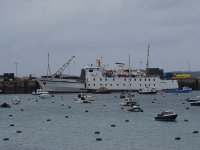 Last edited: