Going over my Choshi photo series for the third time I seem to have skipped this one earlier. Pale Iris, smudgy eye-socket, partly streaked head and neck, very powerful bill; yellow with a red bib and black smudge. Mantle a tad darker than the Vega Gull photographed literally seconds before and after this one (this thread:
Heavily marked Herring | Choshi, jp | march 2020
)
Unfortunately, I was distracted by the Vega: leaving me with flight shots of that one but a few same pose photos of this individual.
What do you think?
The paleness of the mantle (argentatus argentatus grey I would say) does fit Vega better than Slaty-backed but the bill and dark eye-patch + light eye fit Slaty-backed better... or is a third party at play here?
hope to hear from you,
cheers,
G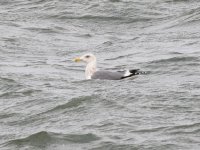 Last edited: