Moderator
Staff member
Supporter
I got my first SF in 2015 and have been using them intensively on expeditions to the west of Scotland and, following the sale of my FL 8x32 and HT 8x42 to our good friend Seldom Perched, an SF 8x32 has since joined the SF42s. After the HTs the open-hinge SFs felt familiar with a similarly positioned focus wheel and of course the fields of view were terrific. Looking at our records of this period I am going to struggle to condense everything into the allowed space but it will be fun trying.
In the many wild and windswept places we visit in, small passerines are sometimes few and far between, unless you encounter areas with bushes, trees and fresh water, so it was a surprise on a visit to our Ardnamurchan haunts to encounter Spotted Flycatcher, Whinchat, Redpoll, Common Whitethroat, Sedge Warbler, Song Thrush and several pleasantly approachable Sand Martins (see pic 1).This pleasure was enhanced when a pair of Greenshanks took up residence on a freshwater channel only a few metres from our cottage. Compared with their cousins, the Redshanks, these are not so common and are such graceful shorebirds that encountering them is always a special occasion.
Later in the year at this same place we were treated to a Barn Owl visiting our locale on 4 days in the late afternoon, hunting over the gardens and grazings around the cottages. In the half-light it hovered and glided around the grazings behind our cottage and, glimpsed between the wind-pruned Birch Trees, we could easily see why in days of old it could have made the superstitious think it was a ghostly spirit. We were too late in the season to encounter Terns here, but on the Western Isles in the height of summer we saw many Common and Arctic Terns and several Little Terns, which are our favourites. These diminutive Terns have a character all of their own and are captivating to observe as they hover and dive for small fish in the shallows or in deeper waters, from the surface layers.
We visited the Languedoc again, and visited Port Vendres and were astonished by the numbers of the Sea Urchin Paracentrotus lividus that we have only found in tiny numbers, hiding under overhangs, on the Scottish west coast. At Port Vendres the open seabed was covered with hundreds of them. But the best treat of all was that we spotted nearby a family of Blue Rock Thrushes. We had occasionally seen individuals of this species inland, near Minerve, but had never seen a family or had such a great view as these. Talking of improbable good luck, there was a Bush Cricket (like a huge Grasshopper but with long whip-like antennae) called Epiphigger epiphigger for which we had searched unsuccessfully on several previous visits. This time we despairingly visited a known site for it but with no great anticipation of success, so imagine our astonishment (surprise wasn't adequate) when one walked across a wide open track in front of us, posed for photos, and stepped happily onto our fingers (see pic 2) and allowed a close examination. Normally we have to search dense vegetation to find Bush Crickets so this individual's outrageous behaviour was totally unexpected.
Just up the coast from Port Vendres in the middle of the day, a large fast-flying dark 'bird' with a pointed tail cruising the cliff tops turned out to be a Free-tailed Bat which was quite startling. We presumed it had been disturbed by the people we could see exploring the under-cliff and making quite a lot of noise while doing it. Its wingspan must have been approaching half a metre so you wouldn't want that to get tangled in your hair (LOL)!
Meanwhile, back in the west of Scotland on Islay, we enjoyed visits almost every morning and evening by Brown Hares (see pic 3), usually one on its own, but sometimes two, and on one occasion, three. They are such beautiful animals and seem both inquisitive and wary.
We also had great good fortune with our beloved Otters and were blessed with two holidays with record-breaking numbers of encounters: 37 and 49! But the numbers don't tell the real stories, one of which was a sighting of what appears to have been previously unrecorded behaviour and another just an amazing piece of charming good luck.
First, the unusual behaviour. On the rocky east coast of Benbecula in the Western Isles, we observed an Otter swim to shore nearby and could see it was a male when it hauled out onto the rocks. It quickly ran to the jumble of seaweed lying on top of the rocks, sniffed at it in several places, and then to our surprise, it dug vigorously at the seaweed with its front paws, scattering the seaweed in all directions. It repeated this action at several sites and then entered the sea and swam at a curiously leisurely pace towards the rocky point at the far side. This odd behaviour had us absolutely fascinated but all was revealed as it cruised along the shore of the rocky point and suddenly darted out of the water and was confronted by what we are sure was a female. The male circled around the other individual maintaining a gap of perhaps 2-3 metres while the putative female stood its ground and turned to continue facing the male, which, having completed the circuit around the female, slid back into the sea. We guess that the female was nearly ready to mate and that this was indicated by the scent of her spraints or urine on each of the sites the male visited. We believe his scrabbling at the seaweed was aimed at scattering it so as to disperse the clues in the scent, so that other males would not be tempted to try to find the female and mate with her. A check through Hans Kruuk's works on Otters didn't find any mention of this behaviour.
Back on Islay, in late October in freezing temperatures, we confidently made our way to one of our favourite Otter sites and sat down behind a huge rock out of the wind with a view over a small bay with many scattered rocks, each with a skirt of dense seaweed surrounding it. Two hours or so later, we still hadn't seen any Otters and were definitely starting to feel the cold despite the shelter. We decided to have our picnic lunch and then go back to our car to defrost. During our vigil the tide had turned and was rising, lifting up the seaweed fringe around the rocks, and to our surprise two small Otter cubs became visible on the seaweed rising up on the opposite side of a rock no more than 15 metres away. They were sleepy, and we guessed their mother had fed them before going fishing and they had fallen asleep with full tummies. Waking up they played tag, pounced on each other (see awful pic No 4, cropped from too small an image in which one cub has just pounced on the other and is looming over it) and romped around the diminishing summit of the rock until they were swimming in the rising tide and swam to the main shore. We watched them, entranced by their antics as they moved erratically along the shore, exploring under boulders and chasing each other around them. Eventually we decided we should leave so that the mother could find them and feed them on her return, so we crept away.
Otters need to regularly wash their fur with freshwater to prevent the salt content matting it together and spoiling its insulating properties which are vital if the Otter is to spend any time in the cold seas. The places where Otters do this can be recognised by the paths worn by the regular passing of Otters' feet and especially by the flattened and bright green patches of vegetation next to freshwater pools and runnels. These green patches are caused by the seaweed exudation that Otters accumulate on their fur as they hunt, and which is rich in natural phosphate fertilisers. But despite finding and photographing many of these places (see pic 5) we had never seen an Otter actually using one of them until very recently. Settling down to overlook a remote coast on the west of Islay to have a warming cup of tea and some sandwiches, we were delighted to see an Otter on the opposite side of the small bay, where we knew a line of washing-sites connected by a runnel was situated. The Otter was on its back, wriggling vigorously with all four paws in the air, then turning on to its side to rub the sides of its head. From the look of its fur through the SF 8x32s it had finished washing and was drying itself. This process took more than a few minutes and kept us humorously entertained, until, with that mysterious ability that Otters have, we were momentarily distracted by a Great Northern Diver and when we looked back, the Otter had disappeared. Gone but not forgotten!
Single Otters, potential Otter partners and the antics of their cubs are fascinating of course but what happens when Otter families meet? The best sighting we ever had of an ad hoc Otter social gathering was off the coast of Berneray in the Western Isles. We were admiring the beautiful turquoise colour of the sea when we saw two groups of Otters swimming through the straits and they were converging. We could see they were one mother with two cubs and another mother with one, and as if it was planned they eventually came together. The mothers stayed aloof and drifted slowly away following their original headings, but for a time the cubs went crazy with excitement, splashing and diving and chasing and only eventually realising their mothers were moving away and then calmed down and followed. It was over too quickly but it was wonderful to have witnessed. We wondered if this was the first time the cubs had met Otters other than their mothers.
I will leave you with the best pic (No 6) I have ever obtained of an Otter with my quite unsuitable photo kit. This Otter is in the act of sprainting just before slipping into the sea and swimming away.
Thanks to all of you for keeping me company throughout this series of reminiscences and I wish you all fair weather and good health.
Lee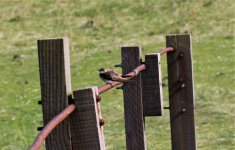 Last edited: