Hello from Norway!
After a very active 8-10 years period of bird photography, my health problems won't allow me to continue my great hobby.
So I have searched for an alternative bird related activity suitable for me - and found it.
I like to draw (although I'm absolutely not an artist, not even amateur).
I also like to design, build and fly kites.
Now I am trying to combine these three interests in making realistic looking bird kites.
My aim is educational, and (if sucessful) I'll make my plans freely available to everyone interested.
A big (but probably unrealistic) dream would be to have f.ex. Chinese kite factory start making realistic bird kites, inspired by my plans.
Here is why it is a good plan for me:
On a a really bad day, I can draw/design on my iPad pro with pen, even in bed.
If the day is a little better I can start making test kites.
On a really good day, I can go outside my house and fly the kites in the air - and maybe even see some real bird while I'm at it!
At the moment I am working on three projects.
The first is to make a full size drawing of one of Norways most impressive birds, the White-tailed eagle - and have it printed on a material suitable for a kite.
The second is to do the same with an attacking Snowy owl.
The third is to find way to make flying bird kites from a sheet of A4 copy paper and draw/design the bird models - something anybody can make with access to a printer, scissors ans sticky tape.
The important thing is to make all models 100% symmetrical. Wings MUST be identical, mirroring each other - and have the best possible kite surface area to weight ratio.
My biggest challenge is getting good, detailed photos taken from directly under the soaring birds (the eagle). Afters weeks and months searching the internet for images and video I still haven't been able to find one showing the head and beak of a white tailed eagle seen right from below.
For many species it is hard to find photos showing the underside of the wings and body at all.
Most photos of the underside of flying eagles (in general) are taken when the bird makes a sharp turn with the wings vertical and the head still horizontal. This wouldn't be very realistic for a soaring bird model.
If someone here can help, It would really make my day, maybe even my week and month too!
I would also be happy if someone could point in the direction of the correct forum group for my project and upcoming questions.
The pictures below shows:
Since I haven't succeded in finding photos, I try to "construct" the underside of a white tailed eagles head based on drawings and skull models. So far I have tried to draw the beak on top of this, but the lower parts doesn't look right to me.
A basic sketch of the White-tailed eagle layout for a kite, with no feather details, but suggesting the kite frame. The head is based on a drawing from the Collins bird guide. The angle is not correct.

An actual flying beta model of attacking Snowy owl from last autumn. There are no plumage details, only rude eyes and beak, and a frame that have to less visible in the future - but at least the kite proved to fly just fine. Maybe a less translucent material will fix the frame visibility problem. This is just white plastic.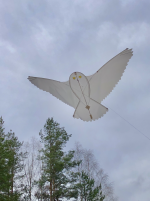 Finally a newer male Snowy owl kite layout sketch with some basic feather details and a more correct wing layout than on the model - still I'm not quite sure it is completely correct. I am also very unsure how big this kite should be to have the correct size since the wings are not stretched out like on a soaring bird.
Help appreciated!
About the feather details, it is my intention to make tail feathers, primaries and secondaries appear translucent contrary to body and part of wings with coverts. Maybe I'll draw some of the feather details on the back side of the kite, so they're only visible in backlight.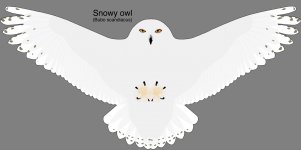 I would be happy for all feedback on the accuracy of my layouts.
Sincerely
Stein Arne Jensen
Kongsberg, Norway
Last edited: